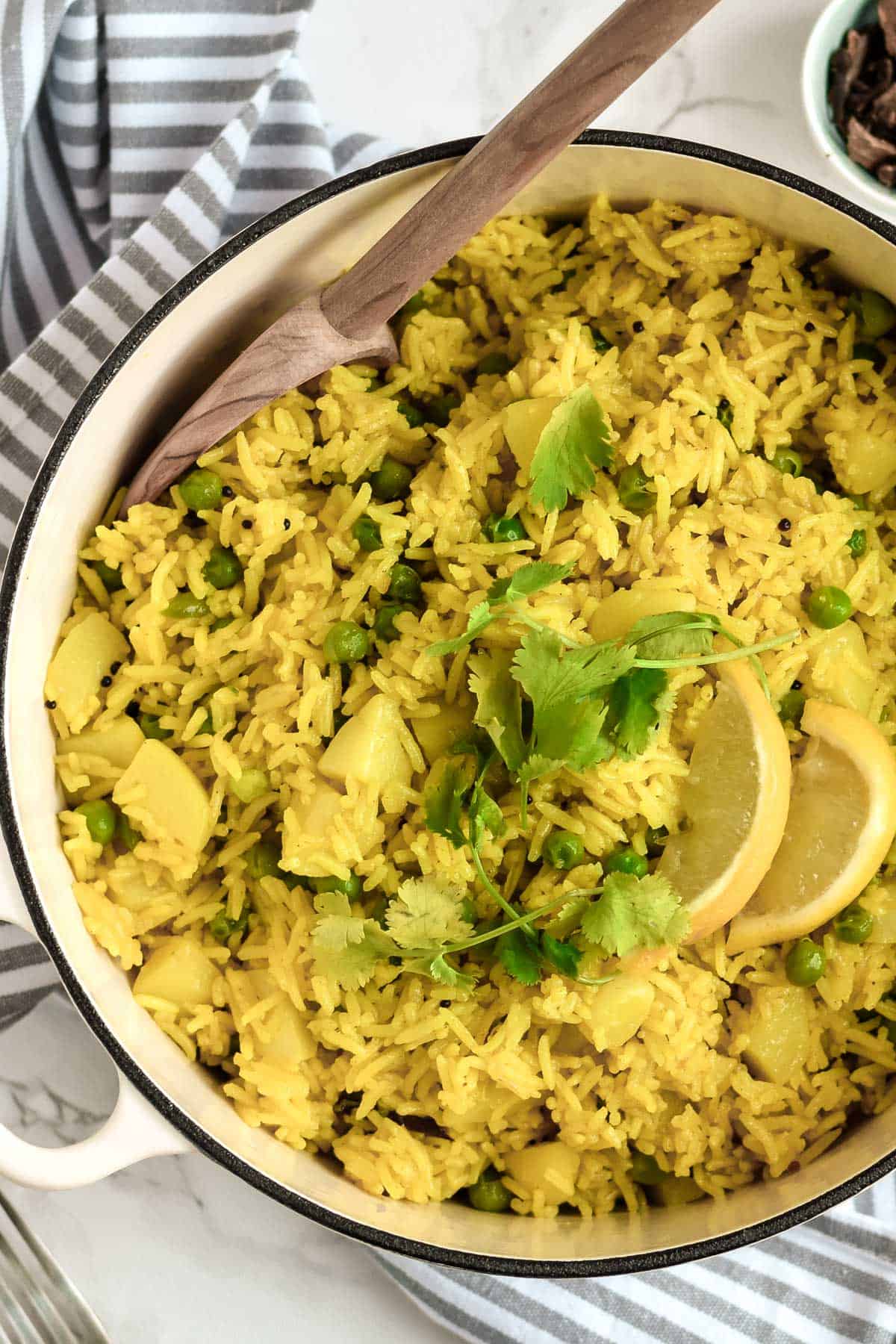 This pilau rice recipe comes straight from my mother's kitchen. It's cosy and comforting, flavoursome but not too spicy, and laced with soft chunks of potato and sweet green peas. And lucky for you, I'm sharing the recipe with you today.
HOW to make vegetable pilau rice
We begin by frying cinnamon sticks, mustard seeds, and cloves in oil to bring out the flavours. Then we'll add cubed potatoes and steam them in a little water.
Next we add washed basmati rice, frozen peas, and spices: turmeric, cumin, coriander, and chilli powder.
The magic happens when we simmer the rice, vegetables and spices for 15 minutes – the rice will fluff up and turn this gorgeous yellow hue. Not to mention it's so FLAVOURFUL!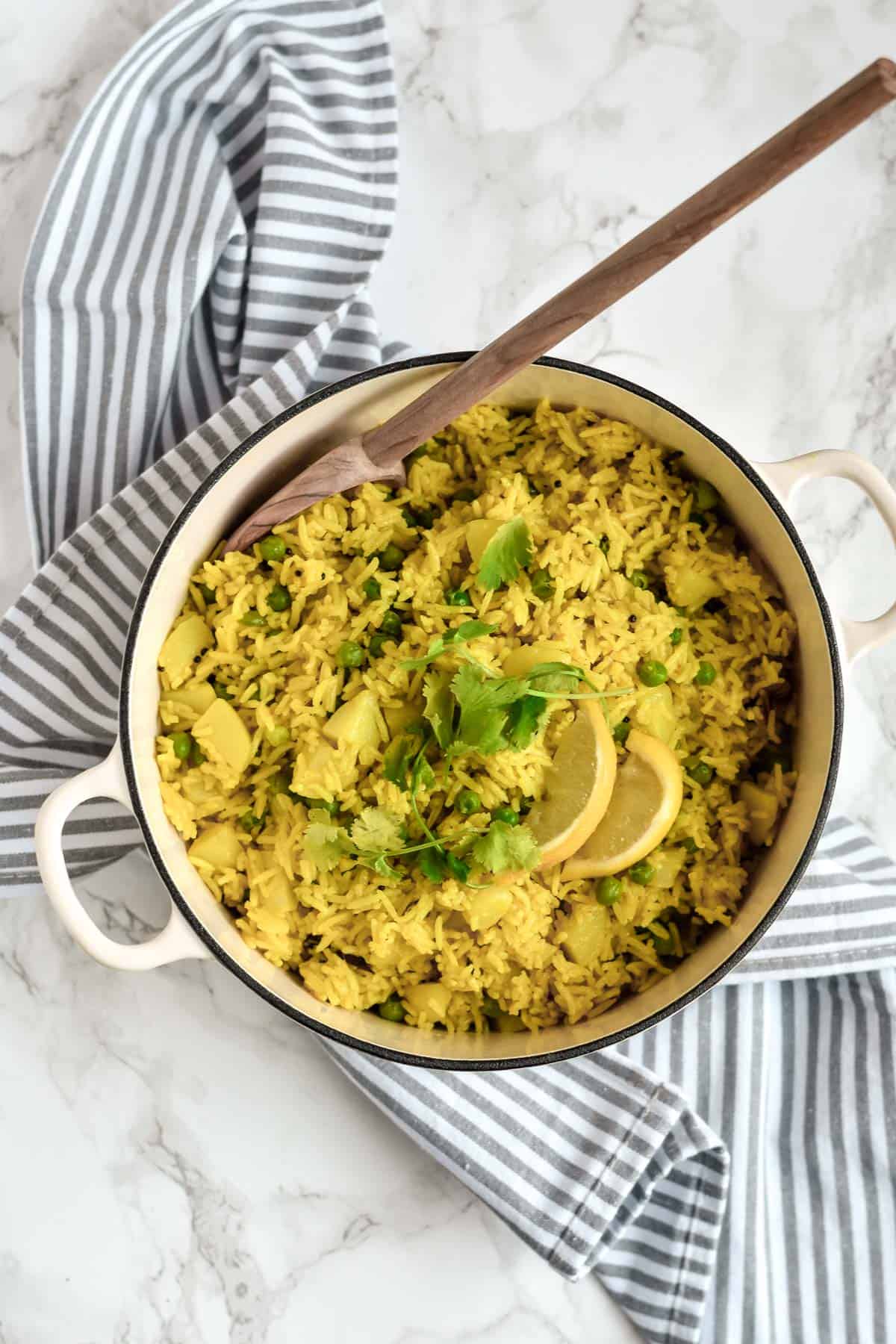 FAQ
How do I wash rice?
Washing your rice is essential for removing starch yielding a fluffy pilau. You can do this by putting the rice in a bowl, covering with water, and using your hand to 'stir' the rice until the water becomes opaque. Then drain this water and repeat until the water runs clear.
Which type of rice is best for pilau?
Pilau is best made with a long grain rice like basmati. Risotto rice is too short and starchy for this dish – we want the rice grains to be light and fluffy as opposed to sticky. You can make this recipe using brown rice, but be sure to increase the cooking time by 5-10 minutes and add extra water as needed.
My pilau rice is sticky. What did I do wrong?
If your rice comes out sticky, you have either added too much water, have not washed the rice enough, or you have over-stirred it.
Notes on this recipe
Don't like peas? You can omit them, or swap them for chickpeas!
Feel free to add any extra vegetables of your choosing to this recipe! Finely chopped carrots, peppers or onions would all work well here.
Keep an eye on the rice for the last few minutes of cooking time to ensure it has enough water to cook whilst not becoming sticky.
What to serve with pilau rice:
This vegetable pilau rice is the perfect standalone dish or accompaniment to curries. In the summer months you could serve it with a refreshing salad and some iced matcha. Or for a light lunch, serve alongside my curried cauliflower steaks!
I hope you enjoy this recipe! If you make it, please leave a rating + review below and share your photos on Instagram tagging #shivanilovesfood!
Easy Vegetable Pilau Rice
Leave a Review
Print Recipe
This quick vegetable pilau rice recipe is the perfect standalone dish or accompaniment to curries. Vegan, gluten-free, and ready in under 30 minutes!
Ingredients
6

Baby Potatoes

1

tbsp

Sunflower Oil

1/4

tsp

Mustard Seeds

4-5

Cloves

2-3

Cinnamon Sticks

small

1

cup

Basmati Rice

1

cup

Frozen Peas

1/4

tsp

Chilli Powder

1/4

tsp

Dried Cumin

1/4

tsp

Dried Coriander

1/2

tsp

Turmeric

3/4

tsp

Salt
Instructions
Peel and dice the potatoes into 2cm chunks.

Add the oil, mustard seeds, cloves and cinnamon sticks to a large saucepan over medium heat. Once the spices begin to crackle, add the diced potatoes along with 1/2 cup boiling water.

Cover the pan, turn the heat down to medium-low, and allow the potatoes to steam for 5 minutes.

Meanwhile, measure out the rice into a bowl and rinse it: cover with cold water and use your hand to 'stir' the rice until the water becomes opaque. Then drain this water away and repeat 1-2 more times. The final time, leave the rice in the water and allow it to soak.

Once the potatoes are softened, add the frozen peas to the saucepan. Drain the rice and add to the pan along with 2 cups of boiling water.

Add the spices: 1/4 tsp chilli powder, 1/4 tsp cumin, 1/4 tsp coriander, 1/2 tsp turmeric and 3/4 tsp salt. Stir to combine then turn the heat to low and simmer for 10-15 minutes.

Stir the rice occasionally to prevent it sticking to the bottom of the pan. When most of the water has gone, taste the rice. If it is still chewy, add a further 1/2 cup of boiling water and cook until the rice is soft.

Serve the pilau rice with lemon wedges and fresh coriander. Enjoy!
Notes
The pilau rice will store in an airtight container in the fridge for 2-3 days.
Nutrition
Serving:
1
portion
Calories:
339
kcal
Carbohydrates:
65.6
g
Protein:
8.5
g
Fat:
4.1
g
Saturated Fat:
0.5
g
Sodium:
477
mg
Fiber:
4.5
g
Sugar:
1.9
g