Chili mogo is one of my FAVOURITE Indo-Chinese dishes and I'm SO excited to share my recipe with you!
What is mogo?
Mogo, also known as cassava or yuca, is a root vegetable. It is similar to a potato but has a little more texture and a slightly sweet, nutty taste.
You can enjoy mogo boiled, mashed, as chips, and of course in this chilli mogo recipe! If you've ever had chilli paneer this is pretty similar, except instead of cubes of fried cheese, we have chunks of crispy cassava!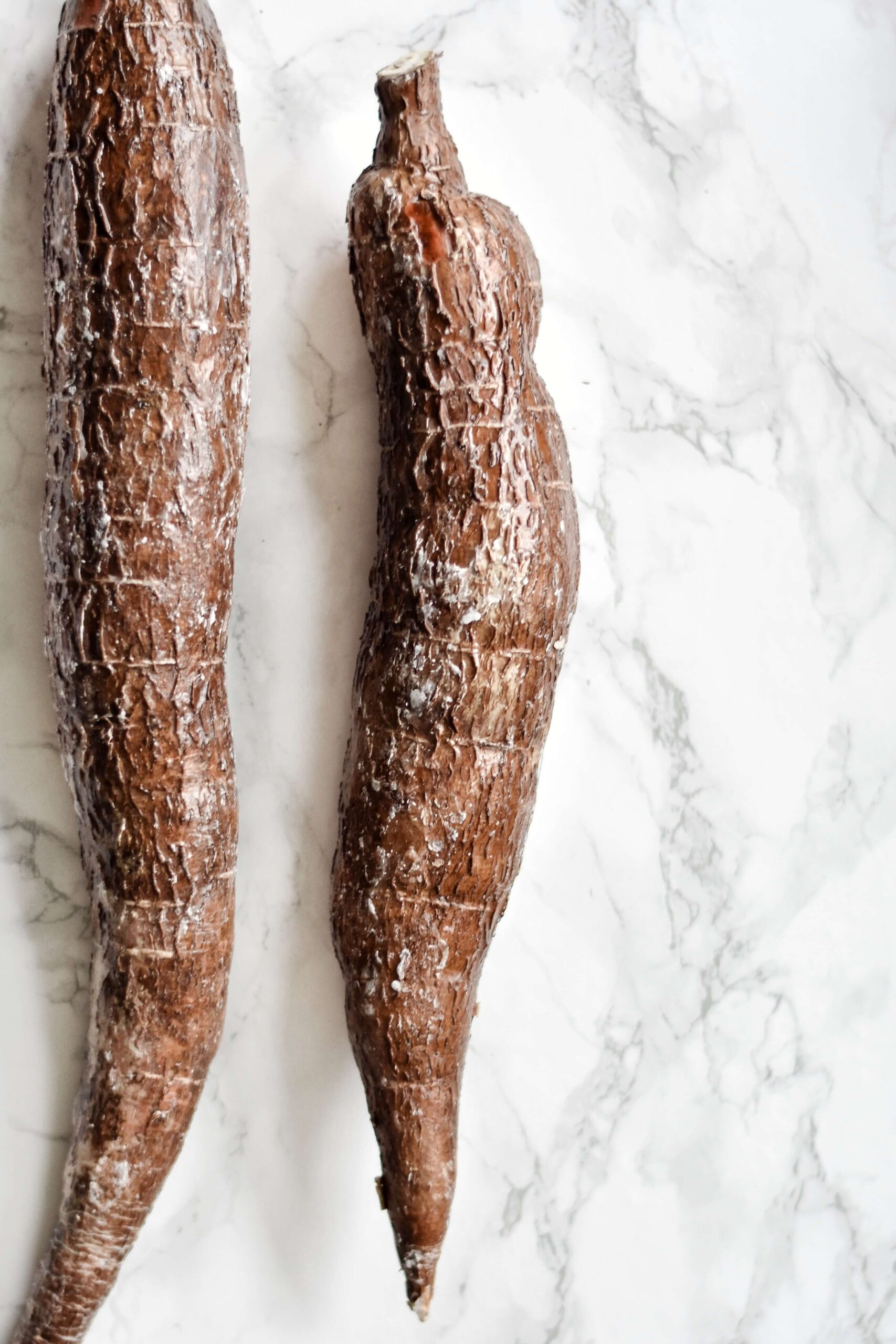 How to make chilli mogo
The first step to making chilli mogo is to boil our mogo, coat it in cornflour and fry it until it is crisp (photo 1).
Next we'll prepare the sticky, spicy sauce by sauteing finely diced onions, garlic, ginger and red pepper (photo 2) . Then add tomatoes, water and spices (photo 3).
Simmer the sauce for 5-10 minutes until it becomes thick and flavoursome (photo 4).
Finally, add the crispy mogo chunks to the sauce (photo 5) and mix until the mogo is evenly coated (photo 6). It's important to add the mogo at the last minute before serving so it stays crisp!
And there you have it! The simple vegan dish that will have you coming back for more! You can find the full chilli mogo recipe at the bottom of this blog post.
A few notes on this recipe:
Please be careful when frying – the mogo has a tendency to spit when it enters the hot oil.
This dish is best served immediately. You'll want to serve it immediately to ensure the mogo stays crisp. Fortunately it doesn't take too long to prepare!
You can adjust the spices to suit your personal preference. If you like things spicier, you can add more chilli powder/hot sauce. The choice is up to you!
Serve alone as a starter, or with some rotlis, daal, and pilau rice for a complete meal!
FAQ
Can I make chili mogo with frozen mogo?
Yes! When using frozen mogo it is easier to boil the mogo first and then cut it into smaller chunks before coating in the cornflour.
What is the difference between cornstarch and cornflour?
You want to buy the product which is a white chalky powder known as cornstarch in the US and cornflour in the UK.
Can I omit a spice if I don't have it?
Whilst all the spices are necessary for achieving a flavoursome restaurant-style taste, if you do not have one or two of the ingredients you can omit them.
I hope you enjoy this recipe! If you make it, please leave a rating + review below and share your photos on Instagram tagging #shivanilovesfood!
If you like this recipe, I know you'll love my restaurant-style chana masala recipe too.
More indian recipes
Chili Mogo
Leave a Review
Print Recipe
A step-by-step recipe for chilli mogo – an Indo-Chinese dish of crispy chunks of fried cassava in a spicy, sticky sauce.
Ingredients
For the crispy mogo:
1

Cassava Root/ Mogo

or 2 cups/ 400 grams frozen mogo

1

tsp

Salt

2

tbsp

Cornstarch

½ cup/ 100 ml

Sunflower Oil

or vegetable oil
For the sauce:
1

tsp

Butter

or vegan butter

1

tsp

Sunflower Oil

½

Red Onion

finely diced

1

Red Bell Pepper

finely diced

1

thumb-sized piece

Ginger

minced

1

clove

Garlic

minced

2

Salad Tomatoes

finely chopped

¼

tsp

Ground Cumin

or dhana

¼

tsp

Ground Coriander

or jeera

¼

tsp

Turmeric

or haldi

½

tsp

Chilli Powder

or mirchi, add more if desired

½

tsp

Chilli Flakes

1

tsp

Sriracha Hot Sauce

optional

1

tbsp

Tomato Ketchup

1

tsp

Soy Sauce

¼

Lemon

juiced
Instructions
If you are using fresh mogo, peel and slice it into 1 inch/ 2.5 cm chunks. If you are using frozen, pre-cut mogo, start with step 2.

Add the mogo to a saucepan and cover with boiling water. Add 1/2 tsp salt and cook on medium heat for 10-15 minutes until the mogo is tender. You should be able to easily slide a fork through the mogo chunks.

Drain the mogo. If your mogo was frozen and pre-cut into chips, at this point cut it into smaller chunks. Coat the mogo with 2 tbsp cornstarch and 1/2 tsp salt. Toss well to combine.

Meanwhile heat 1/2 cup/ 100 ml sunflower oil in a frying pan or wok over medium-high heat. Test if the oil is hot by adding a pinch of cornstarch. If it begins to crackle, the oil is ready! Add the coated mogo chunks and fry for 4-5 minutes until golden. (I like to do this in 2 batches). Once crisp, drain and transfer to a plate lined with a paper towel. Set aside.

Prepare the sauce: In a saucepan over medium-low heat saute the diced onion, pepper, ginger and garlic until soft. Add the chopped tomatoes and 1/2 cup water.

Add the seasonings: ground cumin, ground coriander, turmeric, chilli powder, chilli flakes, sriracha hot sauce, tomato ketchup and soy sauce. Simmer for 5-10 minutes until the sauce is thick and flavoursome.

Just before serving, stir the crispy mogo chunks into the sauce. Add the lemon juice and toss until well combined. Serve garnished with spring onions, coriander and lemon wedges. Enjoy!
Notes
Best served immediately.
Leftovers can be stored in an airtight container in the fridge for 1-2 days and reheated on the stovetop/microwave. 
Nutrition
Serving:
1
serving
Calories:
647
kcal
Carbohydrates:
48.2
g
Protein:
6.2
g
Fat:
49.7
g
Saturated Fat:
5
g
Sodium:
2043
mg
Fiber:
5.6
g
Sugar:
8.7
g