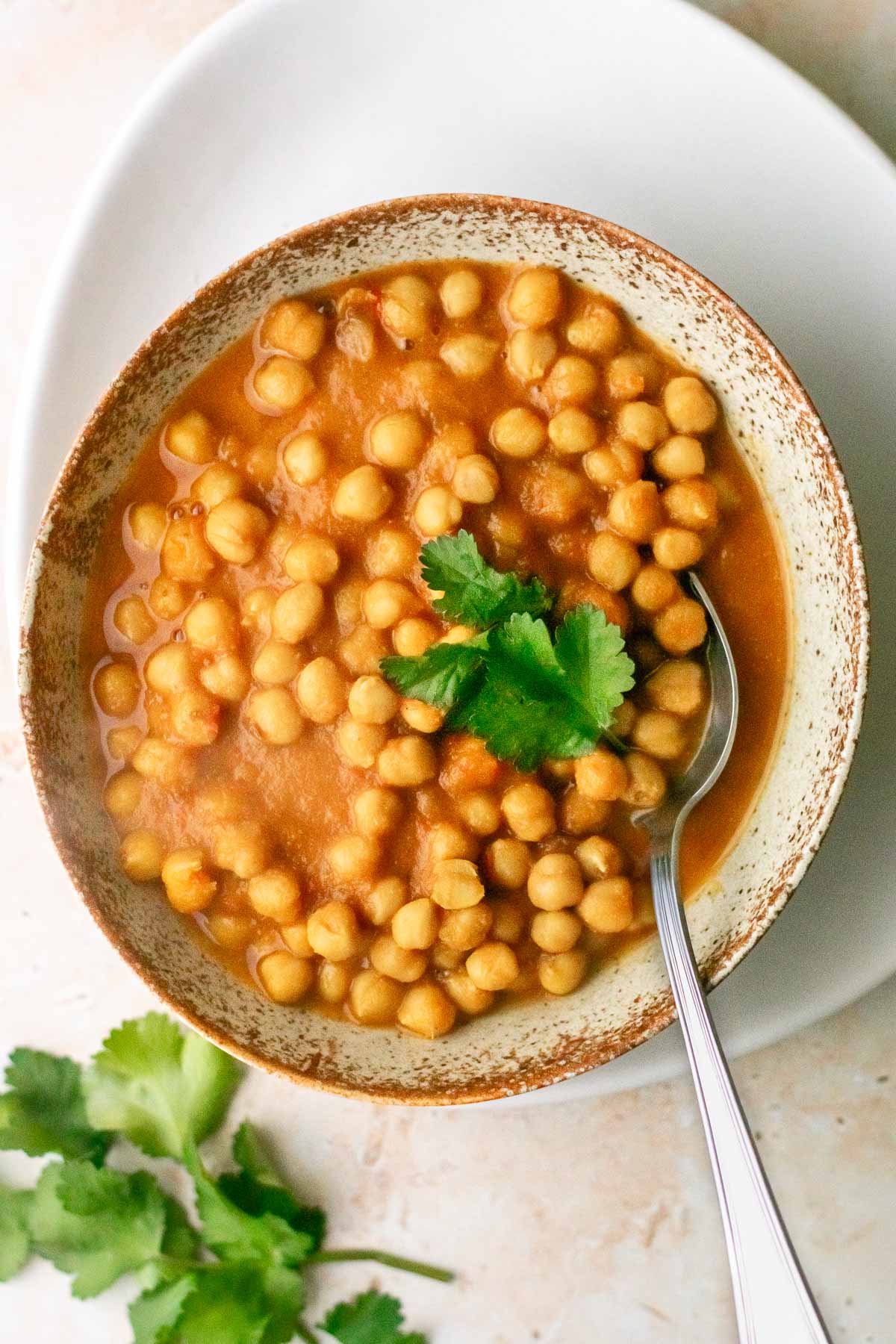 What is chana masala?
Chana Masala is a popular Indian vegetarian dish featuring soft chickpeas in a spiced gravy. Literally, chana translates to chickpeas, and masala translates to spice!
It is a flavourful and hearty dish that is often served alongside rice, roti or naan. Whilst chana masala is traditionally cooked with dried chickpeas, my recipe uses canned chickpeas for added convenience.
Note: chana masala is different from chole masala – whilst both are chickpea-based curries, chole masala features a brown gravy whilst chana masala features a vibrant tomato-based gravy.
Why you'll love this recipe
This chana masala recipe is perfect for those looking for a quick and easy meal. Using canned chickpeas cuts down on the cooking time significantly, making this dish perfect for a busy weeknight.
Chana masala is naturally vegetarian and vegan-friendly, making it a great option for a meatless meal. It is also a great option for those who are new to Indian cuisine due to its mild yet flavourful taste. If you are an Indian cuisine novice, you can't miss my masala chai recipe too!
Ingredients
To make restaurant-style chana masala at home, you will need:
Onions, ginger and garlic. These are essential ingredients to any Indian curry! You can use ginger-garlic paste in place of the fresh ginger and garlic if you prefer.
Tomatoes. Feel free to use cherry tomatoes or salad tomatoes, both work fine.
Spices. We're using both dried and whole spices in this recipe for maximum flavour.: ground turmeric, ground coriander, ground cumin, garam masala, chilli powder, cumin seeds, cardamom pods, cloves, cinnamon sticks, and last but not least, kasuri methi (dried fenugreek). Kasuri methi is an essential ingredient for giving your chana masala an authentic restaurant-style taste.
Canned chickpeas. Make sure to drain and rinse them thoroughly before using. If you like chickpeas, you'll love my spicy chickpea avocado toast too!
Green chillies. For extra heat! This chana masala is fairly mild so feel free to increase the number of chillies if you like things extra spicy.
Whilst this recipe is naturally creamy, you are welcome to add 1-2 tbsp of single cream to the chana for a richer, restaurant-style taste. You will also need some coriander leaves to garnish the finished dish.
How to make chana masala step-by-step
As always, you can find the full recipe and instructions at the bottom of this blog post.
Firstly, saute red onions in oil until they are soft and golden brown. Then add chopped ginger and garlic (photo 1).
Add chopped tomatoes and salt (photo 2).
Add the ground turmeric, ground coriander, ground cumin, garam masala and chilli powder (photo 3). Cook the curry paste until the masala smells fragrant and not raw – you will notice a difference in the smell after 3-5 minutes of cooking (photo 4).
Next, we are going to blend this mixture to make a curry paste. I like to add a few canned chickpeas to the paste to make it slightly thicker (photo 5). Blend the paste until it is smooth and creamy (photo 6).
Next, prepare a tadka/vagar in a fresh saucepan by adding whole spices (cinnamon, cloves, cardamom pods, and cumin seeds) to cold oil and cooking until the spices crackle (photo 7). Make sure to split your cardamom pods to release the flavour!
Add the curry paste, canned chickpeas, water and a slit green chilli (photo 8). Cook the chana masala for 10-15 minutes until the chickpeas soften and the gravy has thickened. Finally, add the kasuri methi just before serving.
Tips and tricks
If you're new to Indian cooking, be sure to follow these steps to make this recipe perfectly:
Use fresh ingredients and spices. The fresher your spices (even dried ones), the better the flavour.
Don't omit the kasuri methi! It's essential for providing a restaurant style taste. If you haven't used this ingredient before, I highly recommend purchasing some, as it will take your Indian cooking to the next level. To truly appreciate the effect of kasuri methi, I recommend tasting a small amount of the chana masala before and after adding the kasuri methi – the difference is incredible!
For a richer, restaurant style taste, add 1-2 tbsp of single cream. This is completely optional, and I find that the chana masala is creamy enough without it (also I hardly ever have cream in my fridge!)
Adjust the spice level as desired. This recipe yields a fairly mild chana masala, but if you are not used to spice at all, I recommend omitting the chilli powder. On the other hand, if you like things extra hot, increase the amount of chilli powder and add some extra green chillies too!
For more spicy recipes, check out my masala scrambled eggs (egg burji) recipe!
Frequently asked questions
Can I make chana masala without oil?
Oil is essential to this recipe as its high boiling point allows the true flavour of the spices to be released. I wouldn't recommend omitting the oil as the flavour will not be the same.
Can I use dried chickpeas instead of canned?
You can make chana masala with dried chickpeas, but you will need to soak the chickpeas overnight and then boil them until tender before using them in this recipe.
Can chana masala be frozen?
Yes, chana masala can be frozen for up to 2-3 months. Just be sure to store it in an airtight container and label it with the date. When reheating, allow it to thaw in the refrigerator overnight and then reheat on the stovetop or in the microwave.
What to serve with chana masala
Chana masala is often served alongside flatbreads such as naan, roti, paratha or puri. You can also serve chana masala with pilau rice and some cooling mint raita.
If you like this recipe, be sure to check out my chili mogo recipe too – it's a reader favourite!
Storage and Reheating
Chana masala will store in an airtight container in the fridge for 2-3 days, making it great for meal prep!
You can reheat it on the stovetop or in the microwave. Just make sure it is thoroughly heated before serving.
I hope you enjoy this recipe! If you make it, please leave a rating + review below and share your photos on Instagram tagging #shivanilovesfood!
Restaurant-Style Chana Masala with Canned Chickpeas
Leave a Review
Print Recipe
This restaurant-style chana masala is bursting with flavour and spice. Using canned chickpeas, this easy recipe is ready in just 45 minutes!
Ingredients
2

tsp

Sunflower Oil

can use any neutral oil

1

Red Onion

diced

2

cloves

Garlic

minced

1

thumb-sized piece

Ginger

finely chopped

3

Salad Tomatoes

(approx. 12 baby tomatoes), diced

3/4

tsp

Salt

1/4

tsp

Ground Turmeric

1/2

tsp

Ground Coriander

1/2

tsp

Ground Cumin

1/4

tsp

Garam Masala

1/4

tsp

Chilli Powder

1

15oz/ 425g tin

Canned Chickpeas

drained and rinsed

1/2

tsp

Cumin Seeds

2

Cloves

2

Green Cardamom Pods

slit

1

inch

Cinnamon Stick

1

Fresh Green Chilli

slit in half

1/4

tsp

Kasuri Methi

(dried fenugreek)

1-2

tbsp

Single Cream

optional, for a richer taste

Fresh Coriander Leaves

to garnish
Instructions
Slice the red onion, ginger, garlic and tomatoes and set aside. Note that as we are blending everything into a paste, the pieces do not have to be perfectly sized!

Add 1 tsp of the sunflower oil to a medium-sized saucepan over medium-low heat. Add the chopped red onion and saute for 3-5 minutes until it is soft and slightly golden.

Add the chopped ginger and garlic to the pan. Saute for just a minute until they are fragrant.

Add the chopped tomatoes and salt to the pan. Cook for one minute to soften the tomatoes slightly.

Add the ground turmeric, ground coriander, ground cumin, garam masala and chilli powder. Stir and continue cooking for 3-5 minutes until the aroma changes. The spices will no longer smell raw and the smell of the curry paste will be noticeably more fragrant.

Set aside the curry paste to cool for a few minutes whilst you drain and rinse a can of chickpeas.

Add the curry paste to a blender jug along with about 2 tbsp of the chickpeas (this will help to thicken the curry paste). Blend until creamy and smooth, adding 1-2 tbsp of water if needed to help it blend.

Make the tadka/vagar in a fresh medium-sized saucepan: Add the remaining 1 tsp of oil along with the cumin seeds, cloves, cardamom pods, and cinnamon stick.

Place the saucepan over medium-high heat and wait for the spices to crackle as the oil heats up. At this point, lower the heat and add the blended curry paste, canned chickpeas, green chilli, and approximately 1 cup of cold water.

Stir everything together and bring it to the boil. Simmer on medium-low heat for 10-15 minutes until the chickpeas have softened and the gravy is thick.

Taste the chana masala for salt and add more water at this point if you prefer a thinner gravy.

Just before serving, stir in the kasuri methi. For a richer taste, stir in 1-2 tbsp of single cream (optional). Garnish with coriander leaves and serve with hot, fluffy naan. Enjoy!
Notes
Chana masala can be stored in an airtight container in the fridge for 2-3 days. Reheat on the stovetop or microwave and ensure it is hot before serving.
I love serving this alongside some pilau rice! 
Nutrition information provided is for 1 serving prepared without cream.
Nutrition
Calories:
284
kcal
Carbohydrates:
39.9
g
Protein:
8.8
g
Fat:
11.2
g
Saturated Fat:
1.3
g
Sodium:
1246
mg
Fiber:
9.1
g
Sugar:
7.3
g