Masala chai is a drink which instantly transports me back to my childhood. It was the drink my grandmother would prepare for me every morning, and I would rush downstairs in excitement for. It was the most delicious time of the day, when I would enjoy the warmth and sweetness of the drink through slices of hot, buttery toast.
Chai is such a pivotal drink in Indian households – come 4pm, most Indians will enjoy a hot cup of chai and some naasto (Indian savoury snacks). Whilst we do not have this ritual in my house, chai is still a drink we consume daily.
What is chai?
The literal meaning of masala chai is 'spiced tea'. Chai means tea, and there are many types of chai – masala chai being one of the most popular.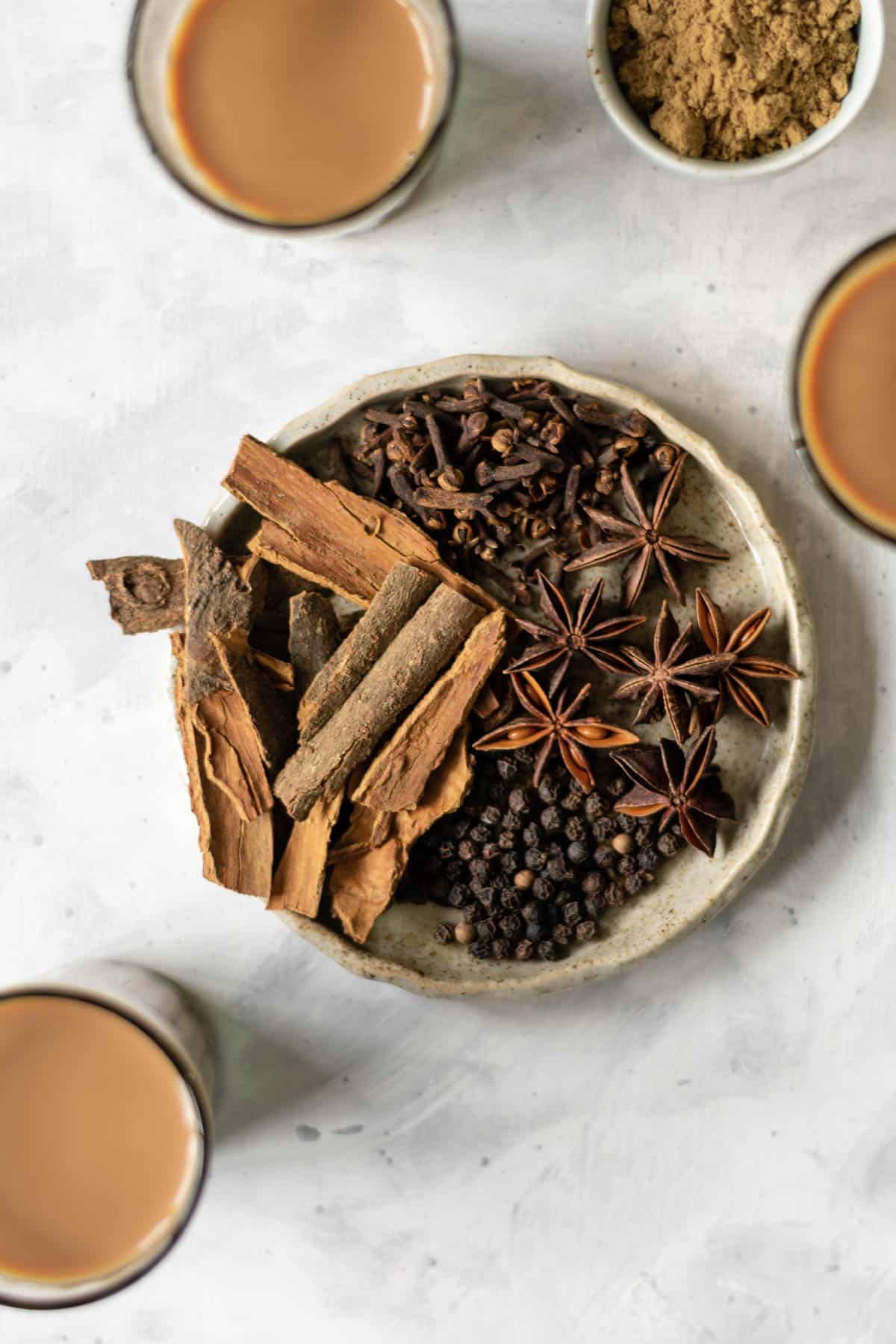 Masala, on the other hand, means spices or spice blend. There are different types of masala, from garam masala to pav bhaji masala, and of course chai masala, which is what we are using today.
You'll find my extensive masala collection put to good use in this masala grilled cheese recipe!
Which spices are used in chai?
The chai you will find in most Indian households varies. Some prefer to roast and grind their own chai spices, whilst others will brew the chai with whole spices in it.
In our household, we buy pre-ground chai masala from Jalpur Millers. You can buy the chai masala I use here.
The common spices in chai masala are cloves, cardamom, ginger, and peppercorns. You may also see ginger, star anise, fennel seeds, or nutmeg.
How to make masala chai:
To make authentic chai at home, boil tea leaves in hot water with sugar and chai masala. Once boiling, gently pour in the milk and bring to the boil again.
To make our chai kadak or strong, we are going to intentionally overboil the chai not once, but three times! This is a common approach used when preparing chai and creates a golden brown colour.
To 'overboil' the chai, turn up the heat on your stove and watch it boil up along the side of the pan. Once the chai nears the top of your saucepan, rapidly turn the heat back down. Be careful to watch your chai so it doesn't bubble over!
I like to enjoy a cup of hot chai with some oatmeal cookies. You could also serve it alongside some masala scrambled eggs and chilli cheese toast for brunch.
If you have chai leftover, you can leave it in the saucepan and reheat when desired – the flavours will only get better. You could also serve cold chai over ice, which is in no way traditional, but in many ways delicious.
If you love Indian food, I know you'll love my recipe for coconut ladoos as well!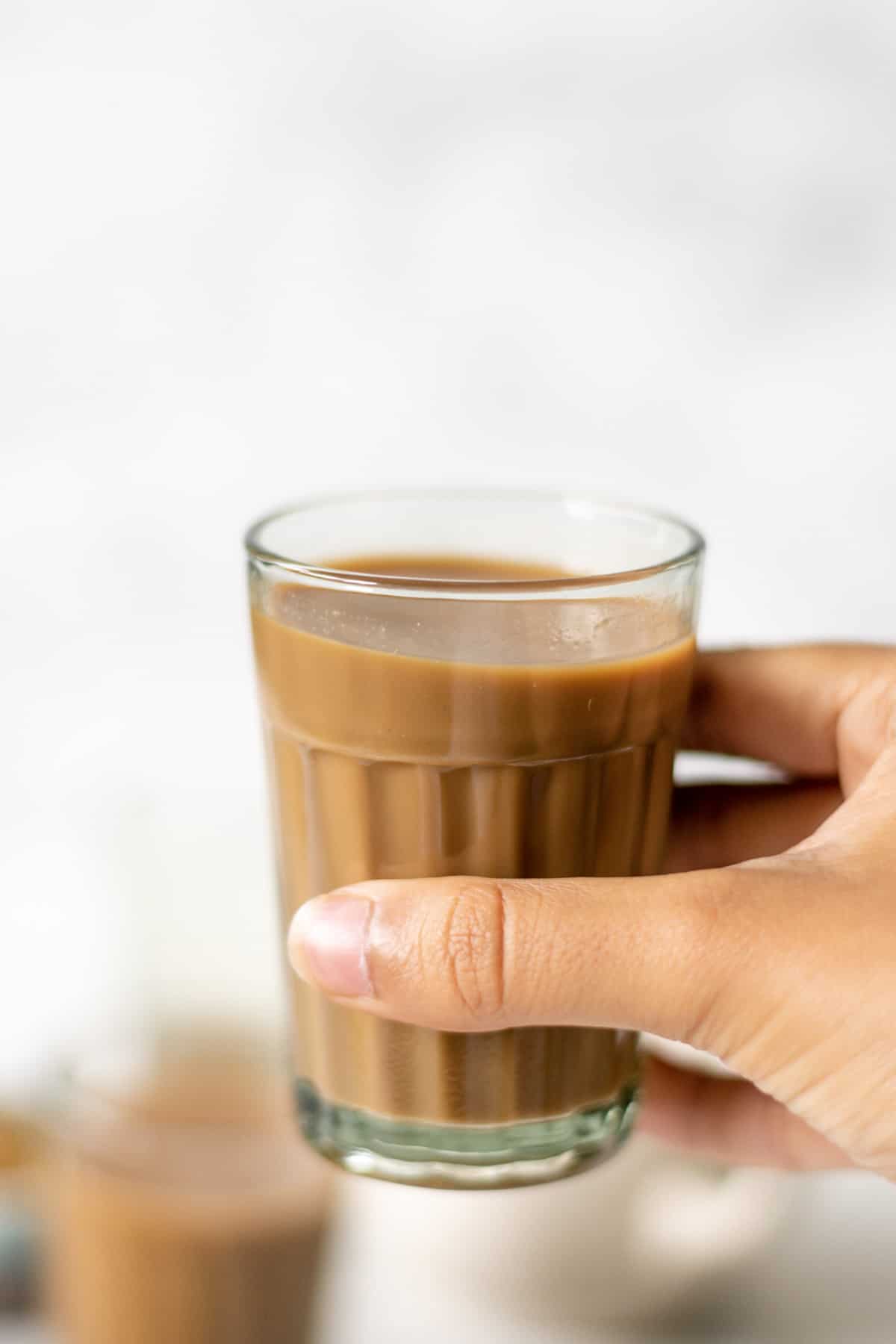 FAQ
I don't have tea leaves. What can I use instead?
If you don't have tea leaves, you can substitute tea bags (1 per serving). I like to open tea bag and empty the contents into my saucepan for maximum flavour.
Can I make vegan masala chai?
Boiling the milk is an essential step in masala chai as it changes the structure of the milk proteins. However, I find that boiled plant-based milk tends to split.

To make vegan chai, prepare the black tea first as usual then allow it to cool down a little before pouring in some gently warmed plant milk and serving immediately.
Can I make naturally sweetened chai?
Whilst I am a purist and believe that nothing beats masala chai prepared with caster sugar and whole milk, you can use honey or maple syrup in place of the sugar if you so prefer.
If you're looking for more Indian drink recipes, you'll love my healthier homemade mango lassi!
I hope you enjoy this recipe! If you make it, please leave a rating + review below and share your photos on Instagram tagging #shivanilovesfood!
Masala Chai (Indian Spiced Tea) Recipe
Leave a Review
Print Recipe
I'm going back to basics with my easy masala chai recipe. Masala chai is a milky Indian tea which is flavoured with sugar and spice!
Ingredients
1 cup/ 250 ml

Whole or Semi Skimmed Milk

see notes for vegan option

2/3 cup/ 200 ml

Boiling Water

2

tbsp

Sugar

or natural sweetener of choice

2

tsp

Tea Leaves

or 2 tea bags

3/4

tsp

Chai Masala*
Instructions
Add the water, tea leaves, chai masala and sugar to a small saucepan and stir to combine.

Cook on medium-low heat for 2-3 minutes until the water comes to a rolling boil.

Slowly pour the milk into the saucepan and continue to simmer the chai.

After 5 minutes, turn the heat up to medium-high and watch the chai boil. Once the chai just rises to the top of the saucepan, turn off the heat. Repeat this process 2-3 times to enhance the flavours.

Strain the chai into your favourite mug. Enjoy hot, cookies mandatory.
Notes
Vegan option: I find that boiled plant-based milk tends to split. To make vegan chai, at step 3, leave the black tea to cool down a little then pour in some gently warmed plant milk and serve immediately.
Leftover chai can be left in the saucepan and reheated when desired. Alternatively, serve the cold chai over ice!
Nutrition
Serving:
1
mug
Calories:
110
kcal
Carbohydrates:
19.4
g
Protein:
3.8
g
Fat:
1.2
g
Saturated Fat:
0.2
g
Sodium:
2
mg
Fiber:
0.2
g
Sugar:
12.1
g