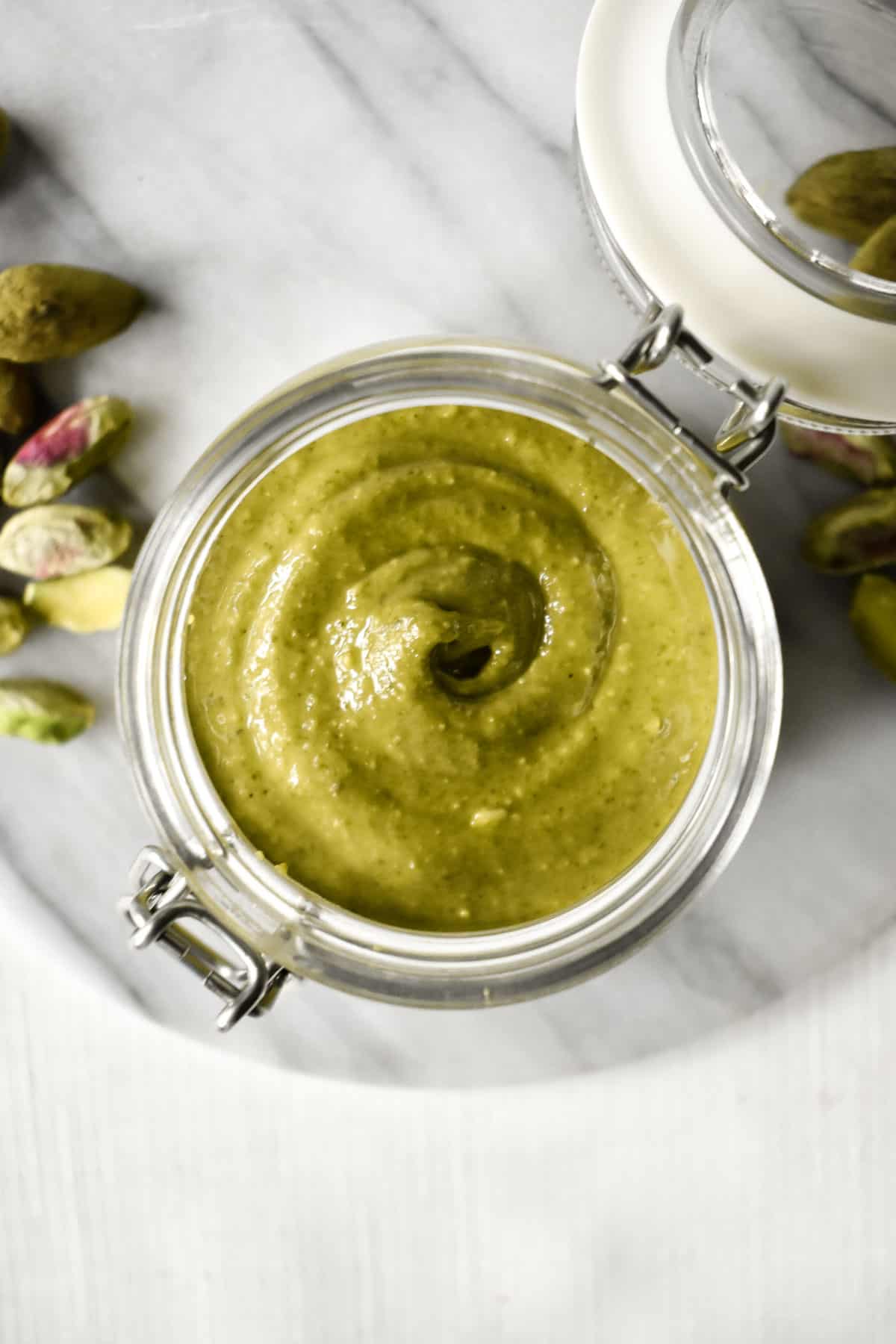 This pistachio almond butter is made with just three ingredients and is the easiest recipe to hit the blog yet. I'm sharing all my top tips for making your own nut butter at home, so read on for the good stuff!
What is nut butter?
Nut butter is a nutty paste made from roasted nuts blended together. It is delightfully creamy and the perfect accompaniment for oatmeal, fruit slices, and baked goods.
How to make nut butter at home:
Making your own nut butter at home has never been so easy! How long this jar of liquid gold lasts however, is something out of my control…
This pistachio almond butter starts with pre-roasted nuts which we'll add to a high-speed blender with a pinch of salt (photo 1). Then we'll blend the nuts for 5-10 minutes until it forms a creamy paste (photo 2). Simples!
Note that you'll have to be patient with your blender. First the nuts will pulverise, then become a thick, gritty paste, and then turn into a smoother paste as the oils are released. If your blender overheats, leave it alone for 5 minutes and then return.
Faq
Can I make nut butter using raw nuts?
Yes! Roasting the nuts brings out their flavour yielding a more aromatic nut butter. If you have raw nuts, you can roast them yourself in the oven on a low heat for 5-10 minutes until golden.
Which blender do you recommend for making nut butter?
I use and love my Vitamix S30.
Can I make nut butter in a food processor?
You can, however the end result may be a little grittier. I recommend purchasing a good quality high speed food processor for making nut butters.
My homemade nut butter looks very gritty. What should I do?
Be patient! Continue blending and your nut butter should become silky smooth as the nut oils are released.
What to serve with pistachio almond butter:
It's time for me to confess: I am a nut butter addict. Days rarely pass without me digging into a tub of the creamy stuff with a spoon. So I have compiled a short list of my favourite uses for nut butter:
Drizzle it on smoothie bowls. Smoothie bowls are a super healthy and tasty treat, but everyone knows the best part is the toppings, right? As well as a sprinkle of homemade granola, top your smoothie bowls with a generous drizzle of nut butter to make them totally Instagram-worthy.
Put it in brownies. I made these vegan peanut butter brownies for my birthday and have been dreaming about them ever since. Want something a little more sophisticated? Sub the peanut butter for this pistachio almond version.
I hope you enjoy this recipe! If you make it, please leave a rating + review below and share your photos on Instagram tagging #shivanilovesfood!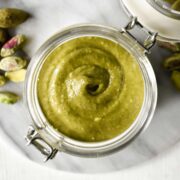 Pistachio Almond Butter
Leave a Review
Print Recipe
This pistachio almond butter recipe is super easy to make with just three healthy ingredients, and is ready in minutes!
Ingredients
1/2 cup/ 75 grams

Roasted Shelled Pistachios

1/2 cup/ 75 grams

Roasted Almonds

pinch

Salt
Instructions
Add all of the ingredients to a high speed blender and blend until a powder forms.

Use a spatula to scrape down the sides of the blender, then keep blending on low speed.

Repeat as necessary until a smooth nut butter forms. Store in an airtight jar in the fridge or at room temperature.
Notes
Feel free to use any nuts you like – get creative!
If your nuts aren't pre-roasted, you can roast them in the oven for 5-10 minutes until golden. 
Perseverance is key! You may need to give your blender a break to cool down if it overheats, but it's worth it for the end result.
Nutrition
Serving:
1
tbsp
Calories:
117
kcal
Carbohydrates:
5
g
Protein:
4.2
g
Fat:
9.8
g
Saturated Fat:
0.9
g
Sodium:
94
mg
Fiber:
2.2
g
Sugar:
1.2
g