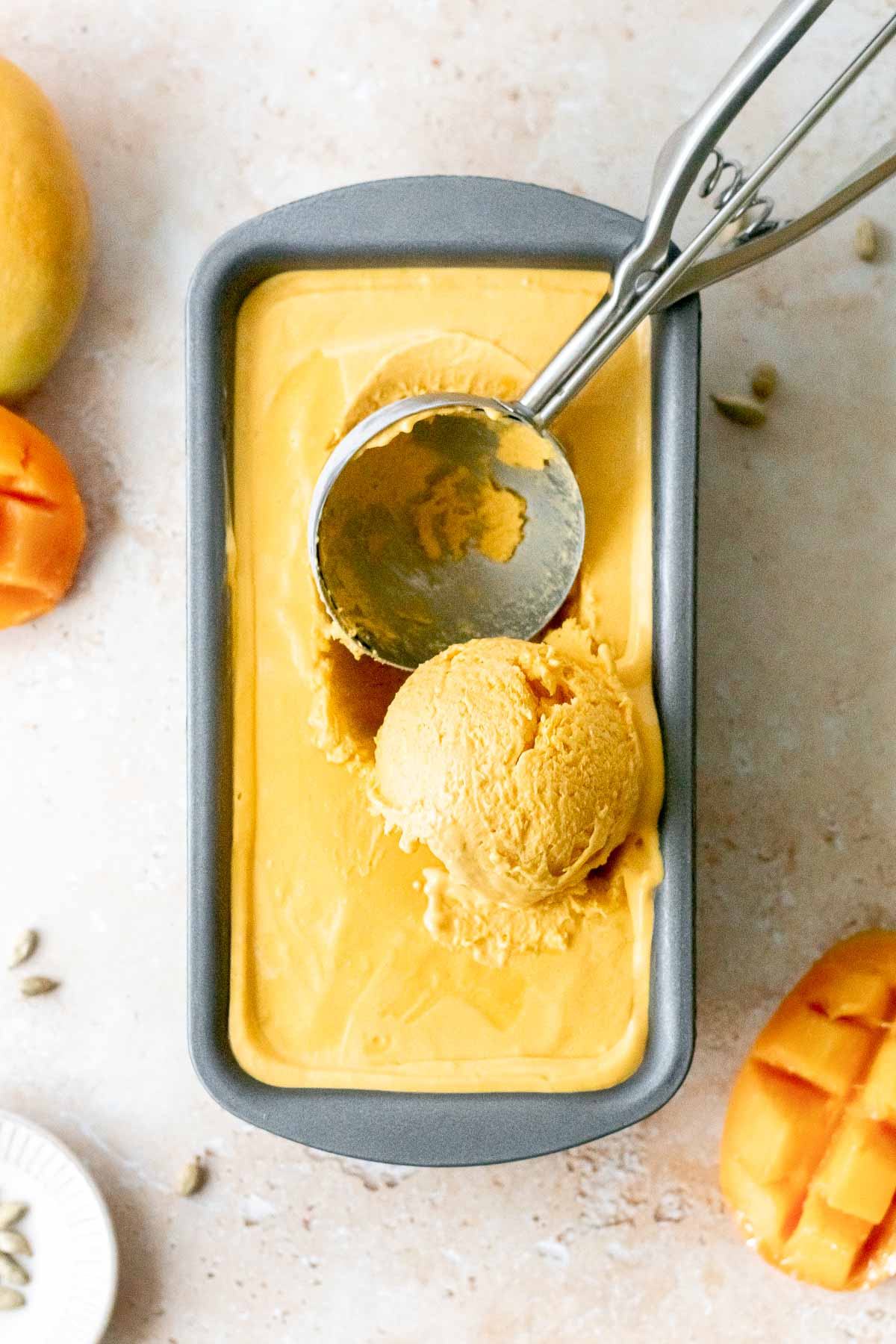 It's mango season and I could not be happier! To celebrate the best time of the year, I'm sharing this delicious homemade mango ice cream recipe. It's no-churn, easy to prepare, and packed with delicious mango flavour.
This ice cream is made with frozen chunks of mango pulp blended with double cream, which we're going to infuse with cardamom, ginger and saffron. Infusing the cream adds extra depth of flavour – you do not want to skip this step!
How to make ice cream without an ice cream maker
A lot of people believe that special machinery is required to create silky smooth, creamy ice cream at home. In fact, it is incredibly easy to make your own ice cream at home without an ice cream machine to help!
Traditionally, ice cream is made by preparing an ice cream base from whole milk, egg yolks and heavy whipping cream, and churning it in a machine which cools it at the same time. However, we can prepare no-churn ice cream at home in a few simple steps:
Freeze part of your ice cream base in an ice cube tray.
Blend the frozen ice cream base with more liquid.
Freeze for a few hours to set.
Simples! This easy recipe allows you to recreate the creamy texture of homemade ice cream without any fancy machines. Although if you are lucky enough to own a fancy ice cream machine, I have included instructions for you below in the Q&A section.
Ingredients
To make this creamy Summer dessert, you'll need just six simple ingredients:
Kesar mango pulp. Mango pulp is a blended form of mango flesh that usually comes in a large 850g can. You can find mango pulp in your local South Asian supermarket, or on Amazon. Opt for Kesar mango pulp over Alphonso for a slightly sweeter flavour. And if you're looking for more mango recipes, be sure to check out my delicious creamy mango lassi!
Double cream. Double cream forms the ice cream base. If you are in the United States, you can use heavy cream. Buy the freshest cream that you can for the best results!
Sugar. I use white granulated sugar in this recipe. Avoid using brown sugars as they will discolour the ice cream.
Spices to infuse our cream: saffron, cardamom, and fresh ginger.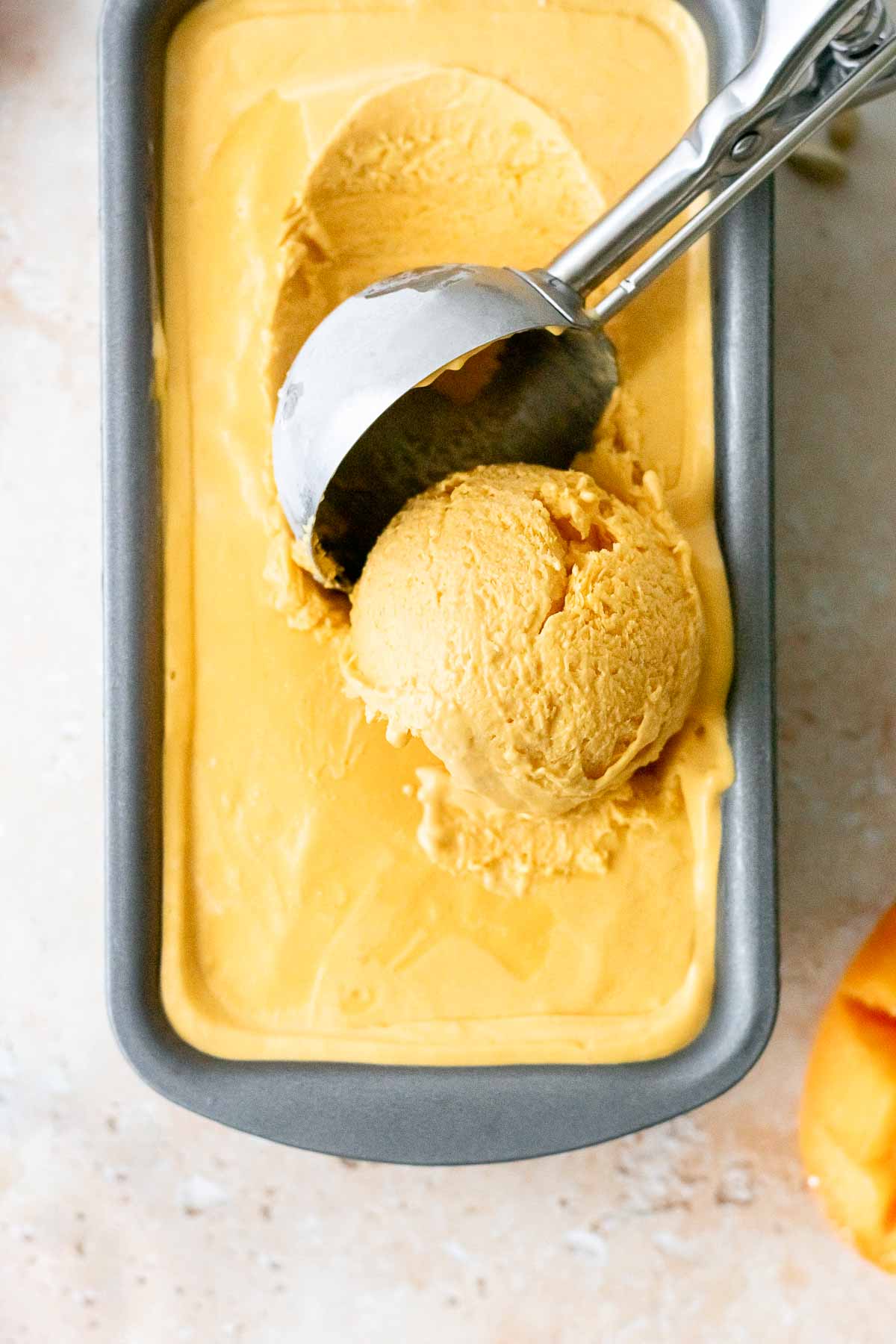 How to make mango ice cream step-by-step:
As always, you can find the full recipe and instructions at the bottom of this blog post.
The first step in this no-churn ice cream recipe is to pour the mango pulp into ice cube trays and freeze it for 3-4 hours, or ideally overnight (photo 1).
Next, add the double cream, sugar, cardamom, saffron and ginger to a saucepan (photo 2). Cook the cream over medium-low heat to infuse it (photo 3). Make sure to strain your cream to remove the bits of cardamom and ginger.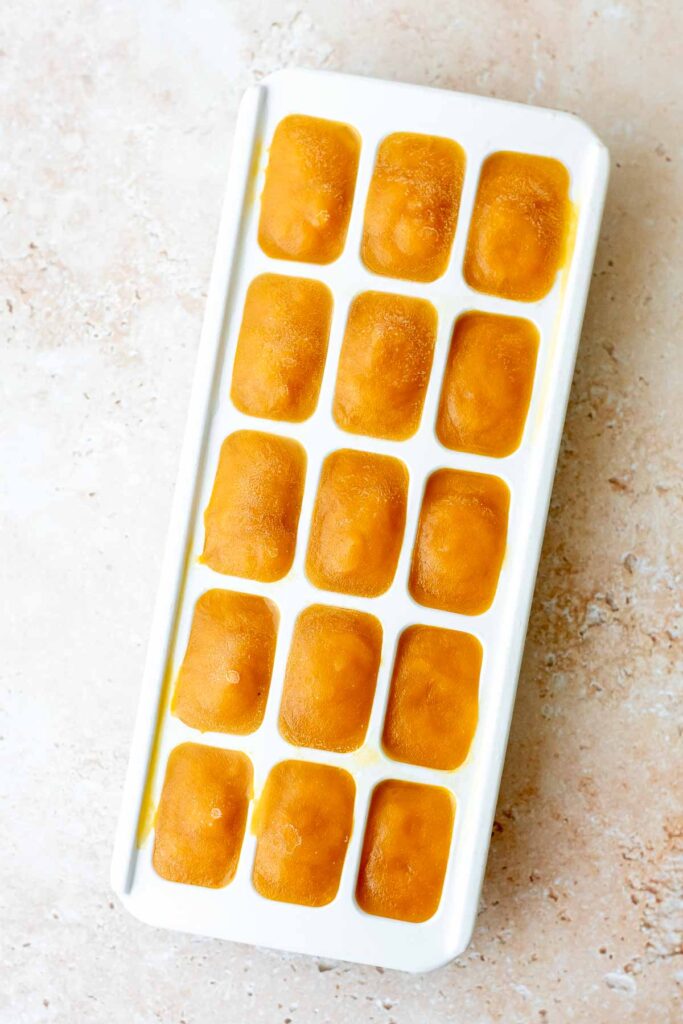 Once the infused cream has cooled, add it to a blender along with the frozen chunks of mango pulp (photo 4). Then blend the ice cream until it is smooth and creamy (photo 5). If your blender is not large enough, you can do this in batches and transfer the mixture into a large mixing bowl.
Pour the mango ice cream into a 2lb loaf pan and freeze for 3-4 hours until set (photo 6). Make sure you leave the ice cream to soften at room temperature for 5-10 minutes before enjoying!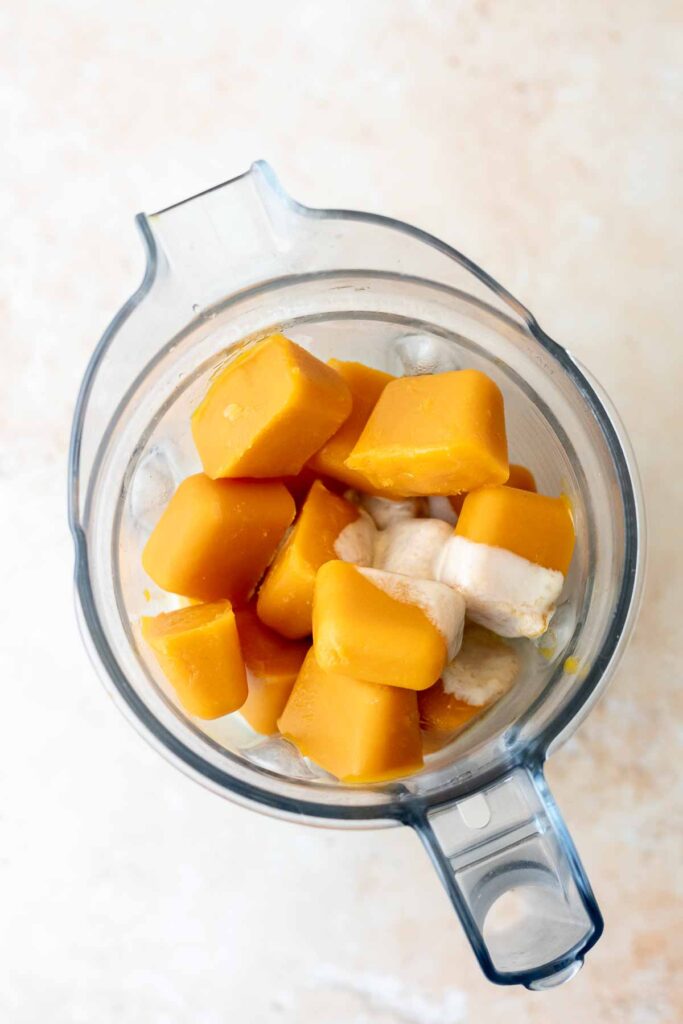 FAQ
Can I make this ice cream in an ice cream machine or Ninja creami?
Yes and yes! To make mango ice cream in an ice cream machine/creami, skip freezing the mango pulp and combine the mango pulp with your cooled, infused cream to form the ice cream base. You can then freeze this overnight in your Ninja creami container, or add the base to your ice cream maker bowl for churning.
Can I make this recipe vegan?
I have not yet tested a vegan version of this mango ice cream, however I am confident that it can be easily made dairy-free by replacing the double cream with coconut milk. Make sure that you use full-fat coconut milk rather than a lighter version, as the high-fat content prevents the formation of ice crystals.
Can I omit the spices?
I highly recommend infusing your cream with the spices to add extra flavour to the ice cream. However, you can omit the spices if you prefer, or swap them for a teaspoon of vanilla extract.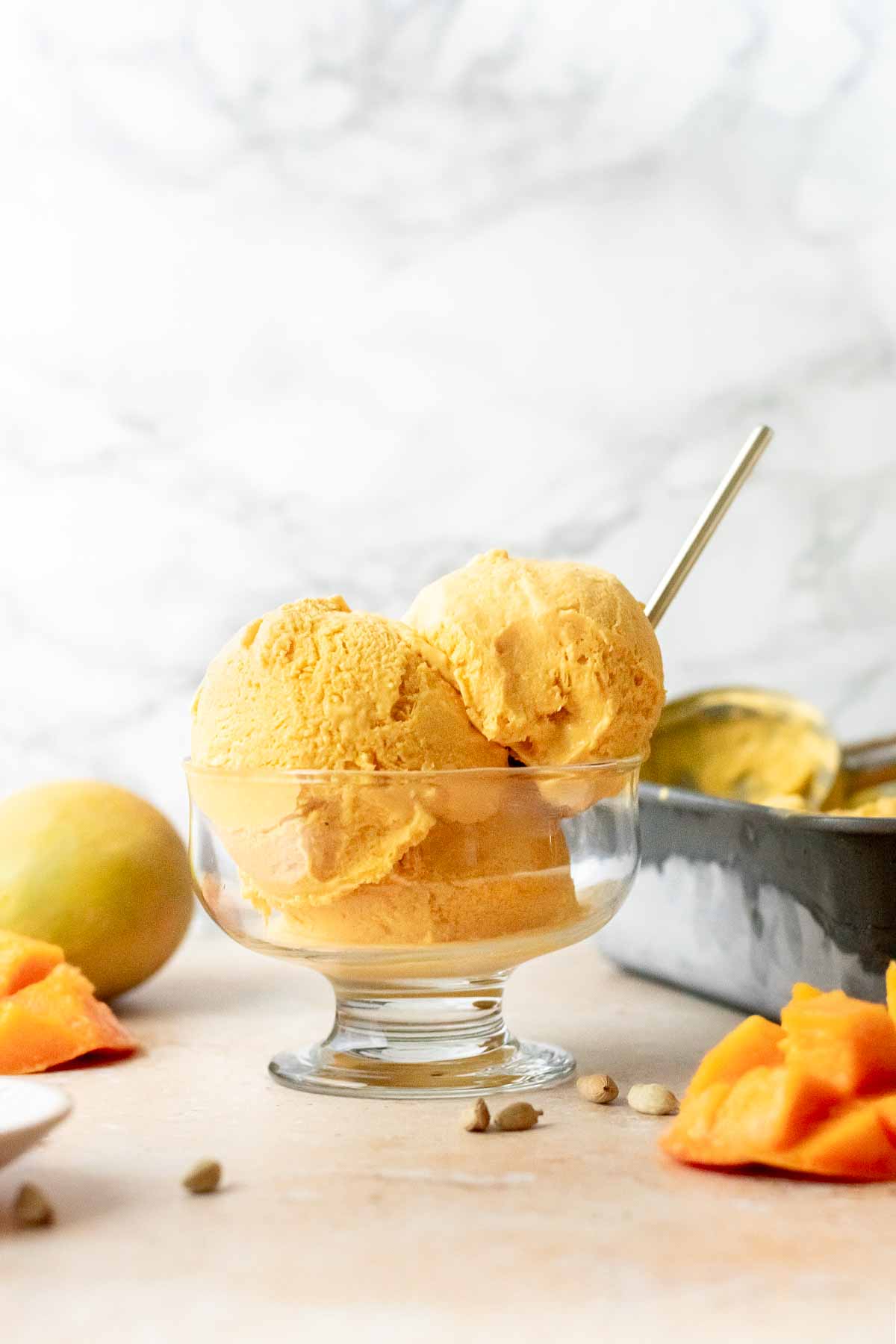 What to serve with mango ice cream
This creamy mango ice cream is delicious enjoyed alone on a hot summer day. You can also turn your mango ice cream into homemade ice cream sandwiches! I suspect that a scoop of mango ice cream sandwiched between two white chocolate pistachio cookies would be a VERY delicious treat.
I hope you enjoy this recipe! If you make it, please leave a rating + review below and share your photos on Instagram tagging #shivanilovesfood!
Mango Ice Cream Recipe (no churn!)
Leave a Review
Print Recipe
This no-churn mango ice cream recipe is made with frozen mango pulp, infused double cream, and a touch of spices.
Ingredients
600

ml

Tinned Kesar Mango Pulp

you can find this in your local South Asian Supermarket

450

ml

Fresh Double Cream

heavy cream/whipping cream

½

cup

Granulated Sugar

4-5

Cardamom Pods

Pinch

Saffron

1

cm

sized piece of Fresh Ginger
Instructions
Pour the mango pulp into ice cube trays and freeze for 3-4 hours, ideally overnight.

Once the mango pulp is frozen, add the double cream, sugar, cardamom pods, saffron and ginger to a medium-sized saucepan.

Cook the cream over low-medium heat for about 10 minutes, stirring frequently, to infuse the cream. Stop cooking the cream when small foamy bubbles appear at the edges.

Strain the cream into a jug using a fine-mesh sieve, and allow it to cool to room temperature.

Add the mango pulp chunks to a large blender jug or food processor, and pour in around half of the cream. Blend the mixture on medium speed until it is silky smooth, then add the rest of the cream and blend again. If your blender is too small, you can do this step in batches, and transfer the mixture to a large bowl to mix it all together.

Pour the mango mixture into a loaf tin (I use a standard 2lb one) or freezer-safe container and cover it with foil or plastic wrap. Freeze the ice cream for 3-4 hours until it has set.

Leave the mango ice cream to soften at room temperature before serving. Enjoy!
Notes
For instructions on how to make this in an ice cream machine or Ninja creami, see the FAQ box above.
Nutrition information provided is for 1/4 pint or 1/10 of the recipe.
Nutrition
Serving:
1
serving
Calories:
299
kcal
Carbohydrates:
25.6
g
Protein:
1.2
g
Fat:
21.8
g
Sodium:
30
mg
Fiber:
2.3
g
Sugar:
22
g