Today we're keeping things sweet and simple with my classic Victoria sponge cake recipe. This tried and tested family is a real crowd-pleaser and is a great bake for beginners!
Victoria sponge is a simple cake but remains an all-time favourite that has delighted taste buds for generations. With its light and fluffy texture and sweet jam and cream filling, it's no wonder this classic treat remains an afternoon tea staple.
My Victoria sponge recipe features two layers of a light and fluffy vanilla sponge cake, and is filled with vanilla buttercream and raspberry jam. AND I'm sharing my tips and tricks to achieve the most delightfully light and fluffy sponge. Let's do this!
Ingredients
The basic vanilla sponge cake requires just 6 ingredients:
Butter – make sure your butter is soft and at room temperature
Granulated sugar
Eggs – ensure they are also at room temperature
Vanilla – if you can find fresh vanilla beans, they really elevate this recipe. If not, vanilla extract or bean paste are good options.
Self rising flour – if you do not have self raising flour, you can make your own by combining 150 grams of flour with 2 teaspoons of baking powder.
Baking powder – a leavening agent that will yield a fluffy cake!
How to make Victoria sponge cake step by step
As always, you can find the full recipe and instructions at the bottom of this blog post.
First, cream together the butter and sugar until it is light and fluffy (photo 1). I highly recommend using an electric whisk or stand mixer for this task. Then beat in the eggs one by one, and add the vanilla extract. Gently fold in the flour and baking powder to complete the cake batter (photo 2).
Divide the batter between two cake tins and bake until golden (photo 3).
Prepare the buttercream in a large mixing bowl, by whisking butter and powdered sugar until light and fluffy (photo 4).
Once the cakes have cooled, assemble the Victoria sponge by spreading or piping the buttercream onto one cake then topping it with the jam (photo 5). Add the second cake layer (photo 6) and dust the cake with icing sugar. Serve with a cup of tea or hot masala chai!
Tips for making the best Victoria sponge:
Use the highest quality ingredients you can find. The eggs, vanilla and butter are particularly important. Taking the time to purchase organic or locally available ingredients will make a huge difference to the outcome.
Use an electric scale to measure your ingredients. I have included the cup equivalents below, however you will get more consistent results by using an electric scale.
​Make sure you use room temperature eggs and butter to avoid curdling.
I highly recommend using an electric whisk or electric mixer to prepare the sponge cake and buttercream, to make them light and fluffy. Whilst you can technically prepare this recipe by hand, you'd need a lot of bicep strength to achieve the same results as an electric whisk!
Gently fold in the flour when adding it, and avoid overmixing which can yield a dense cake.
Make sure you leave the cakes to cool on a cooling rack COMPLETELY before adding the fillings.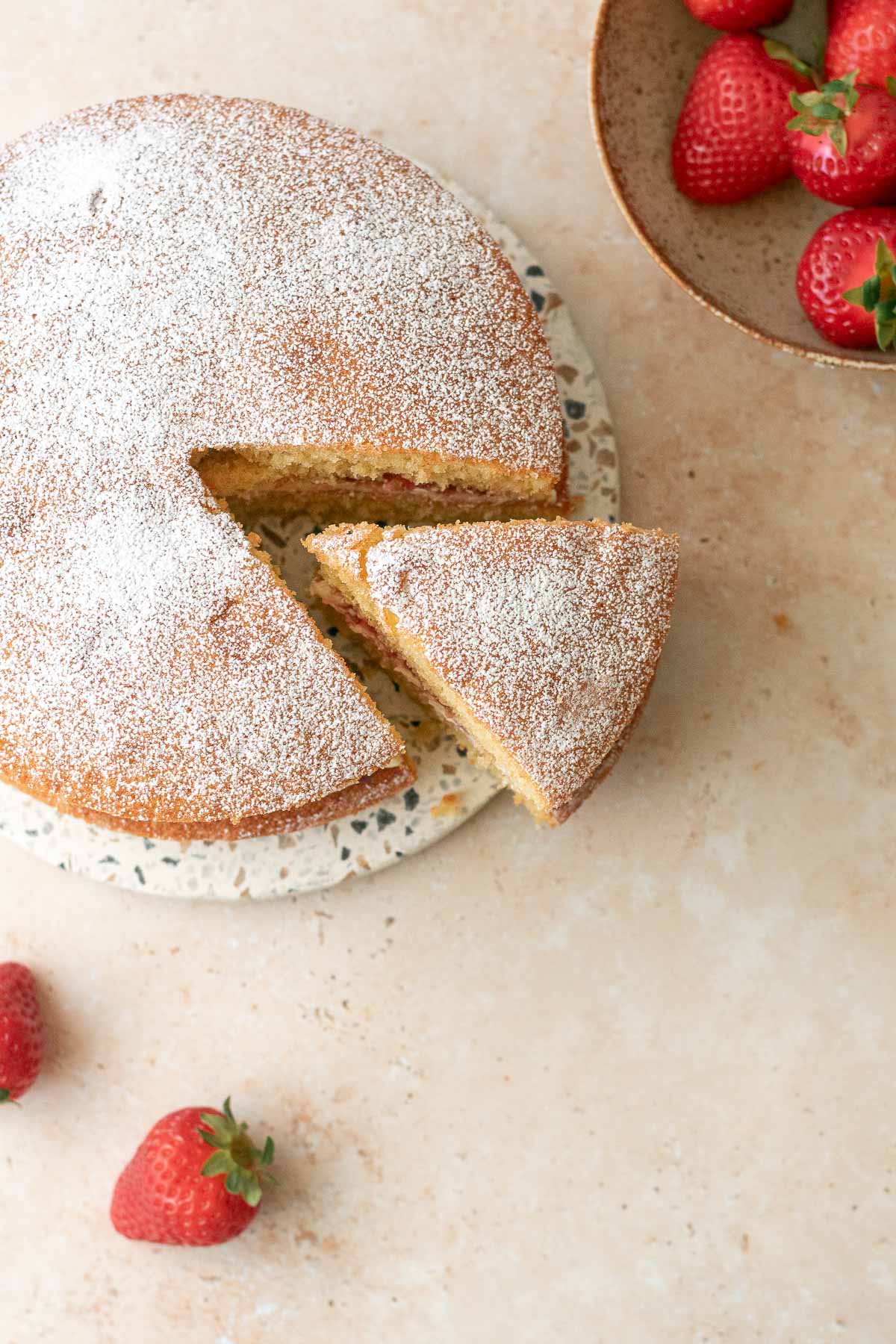 Variations on this recipe
Whilst I'm partial to a slice of the classic Victoria sponge, you can switch things up with one of these variations if you wish:
For a lighter option, swap the buttercream and raspberry jam for coconut whipped cream and homemade chia seed jam.
Add a layer of sliced fresh strawberries in the middle of the cake.
Add some fresh lemon zest to the cake batter for a fruity twist!
Frequently Asked Questions
How do I turn plain flour into self-raising flour?
Add 2 teaspoons of baking powder for every 150g of plain flour (all-purpose flour). So for this recipe, you'd need to add 2 teaspoons of baking powder (and an additional 1 teaspoon as instructed).
How long does a Victoria Sponge Cake last?
When stored properly in an airtight container, a Victoria Sponge Cake can stay fresh for 2-3 days at room temperature or up to a week in the refrigerator – if it lasts that long!
Can I substitute butter with margarine?
While butter contributes to the flavor and texture of the cake, you can substitute margarine. However, the taste and texture of the cake may differ slightly.
Can I use strawberry jam instead of raspberry?
Whilst the traditional filling for Victoria sponge is raspberry jam, you can indeed use strawberry jam if you prefer.
This cake is a true family favourite and is great as a teatime treat or for special occasions. If you like this recipe, you'll love my chocolate cupcakes too!
I hope you enjoy this recipe! If you make it, please leave a rating + review below and share your photos on Instagram tagging #shivanilovesfood!
Classic Victoria Sponge Cake Recipe
Leave a Review
Print Recipe
My Victoria sponge cake recipe is sweet and simple: vanilla buttercream and fruity jam sandwiched between two layers of fluffy vanilla cake.
Ingredients
For the Sponge Cake:
150g/ 2/3 cup

Butter

room temperature

150g/ 2/3 cup

Granulated Sugar

3

Large Eggs

room temperature

1

tsp

Vanilla Extract

150g/ 1 cup

Self-Raising Flour*

1

tsp

Baking Powder
For the Filling:
60g / 4 tablespoons

Butter

room temperature

90g/ 1/2 cup

Icing Sugar

aka powdered sugar

1

tsp

Vanilla Extract

2-3

tbsp

Seedless Raspberry Jam
Instructions
Preheat your oven to 180 °C/350 °F.

Grease two 20 cm/8 inch cake tins with butter or cooking spray, and line the bases with circles of greaseproof paper.

Add the softened butter and granulated sugar to a large mixing bowl. Use an electric whisk or stand mixer to cream the butter and sugar together until light and fluffy. This should take 5-10 minutes and the butter will be visibly lighter in colour.

Add the eggs to the mixture, one by one, beating well after each addition using the electric whisk.

Whisk in the vanilla extract.

Add the self-raising flour and baking powder to the bowl. Use a spatula or wooden spoon to GENTLY fold in the flour, being careful to avoid overmixing the batter.

Divide the cake batter between the two cake tins and use a spatula to evenly spread out the mixture.

Bake the tins in the middle shelf of the oven for 15-18 minutes until they are golden brown on top.

Allow the cakes to cool for a few minutes in their tins, then remove the cakes from the tins and peel off the greaseproof paper.

Leave the cakes to cool COMPLETELY whilst you prepare the buttercream. You can transfer the cakes to the fridge if you are in a pinch.

Prepare the buttercream: add the softened butter, vanilla extract and icing sugar to a large bowl. To avoid making a mess, first mix together the buttercream with a wooden spoon until the sugar is all incorporated. Then use an electric whisk or stand mixer to beat the buttercream for 3-5 minutes until it is pale and fluffy in texture.

Once the cakes have cooled, spread or pipe the buttercream onto the top of one cake layer. Top the buttercream with the raspberry jam then add the final sponge cake on top.

To serve, dust the cake with a little icing sugar. Enjoy!
Notes
* If you do not have self raising flour, you can make your own by adding 2 teaspoons baking powder per 150 grams of plain or all purpose flour (so to make this recipe you'd need to add 2 teaspoons plus the additional 1 teaspoon that is required).
The prepared cake will store for 2-3 days at room temperature in an airtight container, or for up to 1 week in the fridge.
Nutrition
Serving:
1
slice
Calories:
415
kcal
Carbohydrates:
48.3
g
Protein:
4.5
g
Fat:
23.3
g
Saturated Fat:
14.1
g
Cholesterol:
126
mg
Sodium:
180
mg
Fiber:
0.6
g
Sugar:
32.5
g