Are you looking for a delicious and healthy savory snack? Look no further than this aloo chana chaat. This easy recipe is vibrant, nutritious, and packed with flavour in every bite.
What is chaat?
Chaat, which literally translates as 'to lick', is a broad term describing Indian savoury snacks served at street food stalls. Chaat dishes are known for their bold and complex flavors, which often combine sweet, sour, salty, and spicy tastes.
Any ingredient can be transformed into chaat (or chaat-ified, if you will) with the addition of a few key ingredients: chutneys, yogurt, onion, and chaat masala. Chaat masala is a blend of spices used to prepare chaat, typically containing cumin, coriander, dried mango powder (amchoor), black salt (kala namak), red chili powder, ginger and more.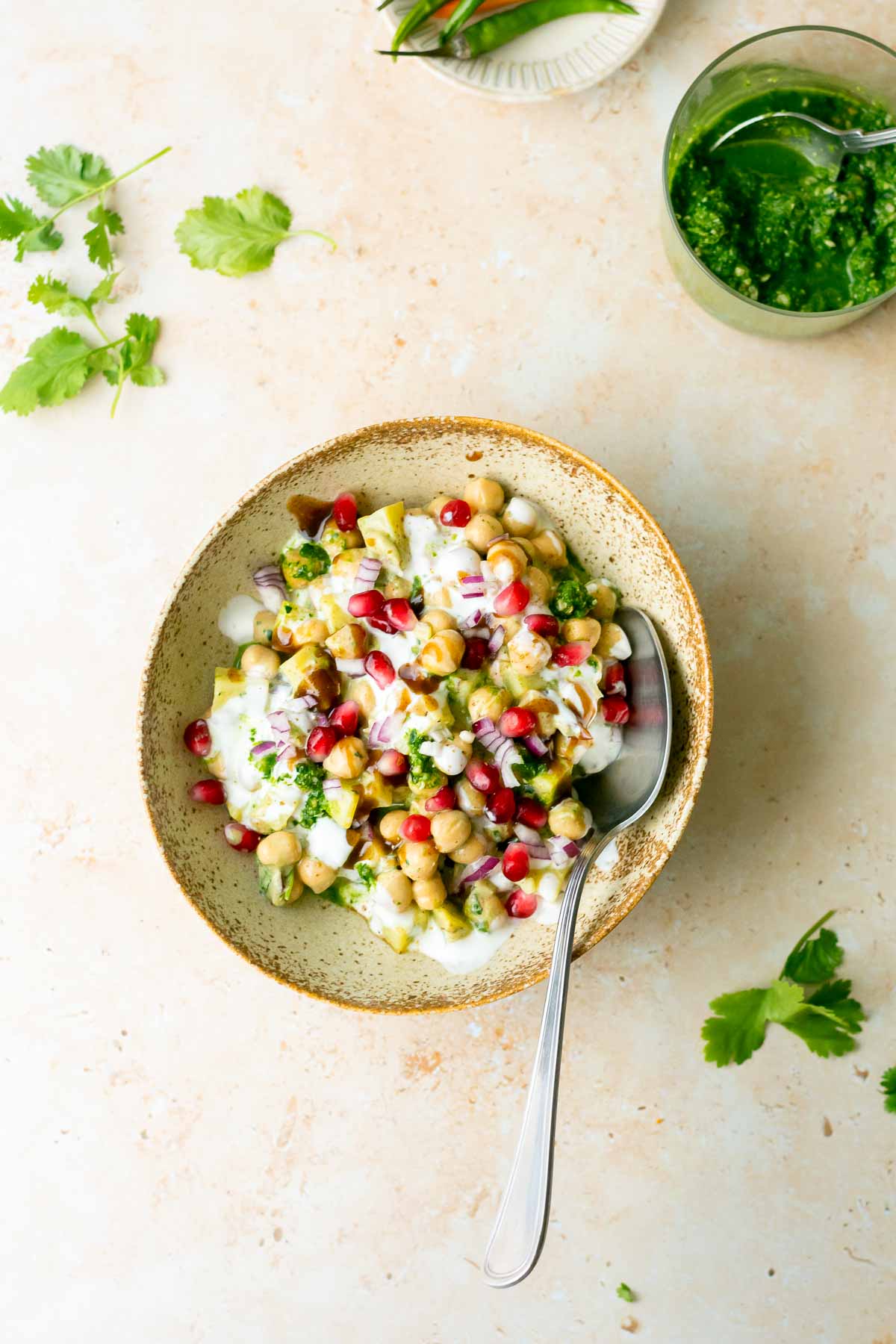 Common variations of chaat include samosa chaat, aloo tikki chaat, bhel puri, papdi chaat and chana (chickpea) chaat, which is what we are making today. My chana chaat recipe also includes diced potatoes (aloo), and creamy yogurt (dahi), and is akin to a tangy chickpea salad.
Where can I find chaat masala?
You can find chaat masala powder in most South Asian grocery stores. I like the MDH brand. And whilst you're at the South Asian store, be sure to pick up some rose syrup to make this delightful rose chia pudding recipe!
If you do not have a local South Asian supermarket, you can purchase chaat masala on Amazon or make your own at home.
How to make aloo chana chaat step by step
As always, you can find the full recipe and instructions at the bottom of this blog post.
Firstly, we'll prepare the yogurt mixture by mixing together yogurt, sugar and water (photo 1). You can use any type of plain yogurt such as Greek, full-fat or set yogurt. For a dairy-free option, use coconut yogurt. Depending on which type of yogurt you use, you may need to add more or less water to achieve a runny consistency.
Next, add half of the yogurt to a large mixing bowl along with the rest of the ingredients (photo 2). In addition to the white chickpeas and boiled potatoes, you will need diced red onion, chopped green chilies, green coriander chutney, tamarind chutney, chaat masala, cumin powder, salt, and chopped coriander leaves.
Mix everything together until it is well combined (photo 3). Then transfer the aloo chana chaat to a serving bowl and top with the remaining yogurt and chutneys.
Chaat toppings
The toppings for chaat vary between the type of chaat and also depend on personal preference. In this recipe, I like to top the chaat with extra yogurt and chutneys, diced red onions, pomegranate, and a sprinkle of chaat masala.
Another popular topping for chaat is thin sev – crispy pieces of fried gram flour. Sev can also be found at your local South Asian supermarket, and is a delicious addition to this aloo chana chaat.
Tips for making the perfect chaat
Chaat is very simple to make at home, but here are a few tips for getting the *perfect* flavour:
Cook your potatoes until they are soft but not mushy. Overcooked potatoes and chickpeas can become too soft and lose their texture. Also be sure to use a waxy variety of potato (such as new potatoes or baby potatoes) as they will hold texture when boiled, unlike floury potatoes.
Use fresh ingredients for the best flavor. Fresh onions, coriander and pomegranates will give your chaat a bright, fresh taste.
Adjust the spices to your liking. If you like your chaat spicy, add some red chilli powder. If you prefer it less spicy, you can omit it.
Frequently Asked Questions
Can I use store bought chutneys?
Yes, you can. However, I find that homemade chutneys always taste fresher and more flavoursome. If you have time, I highly recommend making your own green chutney. You can make your own green chutney at home following my simple step-by-step recipe.

Can I make chaat in advance?
Yes, you can make chaat in advance. The flavours will only get better with time. However, it is best to serve chaat immediately once you have added all of the toppings. If you are preparing chaat in advance, store it in an airtight container in the fridge for up to 1 day, then add the toppings just before serving.
Can I make chana chaat with dried chickpeas instead of canned chickpeas?
Yes, you will need to soak the chickpeas and boil on the stovetop or in a pressure cooker/instant pot until they are soft and tender.
Can I make this recipe vegan?
Yes! Chaat is easily made vegan by swapping the yogurt for a coconut yogurt or plant-based yogurt. You can also substitute agave syrup for the sugar to keep it naturally sweetened.
Can I add other ingredients?
Yes, chaat is fully customisable. Feel free to add any toppings of your choice, or additional ingredients such as chopped cucumbers or peppers. Make it your own!
Chana chaat makes an ideal appetizer or side dish to enjoy with a larger meal. And it's delicious taste will have you coming back for more!
For more delicious Indian recipes, check out my restaurant-style chana masala, mango lassi and pilau rice recipes!
I hope you enjoy this recipe! If you make it, please leave a rating + review below and share your photos on Instagram tagging #shivanilovesfood!
Easy Aloo Chana Chaat Recipe with Yogurt
Leave a Review
Print Recipe
This easy aloo chana chaat with yogurt combines boiled potatoes and chickpeas with yogurt, chutneys, and a variety of tasty additions.
Ingredients
4

tablespoons

Plain Yogurt

you can use any variety but I like Greek. You can also use coconut yogurt for dairy-free option.

2

teaspoons

Granulated Sugar

4

Baby Potatoes

sliced into chunks

1 400g/14oz

tin of Chickpeas

(garbanzo beans), drained and rinsed

1

Red Onion

finely diced

1

Green Chilli

finely chopped

2

teaspoons

Green Chutney

2

teaspoons

Tamarind Chutney

(amli)

1

tsp

Chaat Masala

½

tsp

Cumin Powder

⅔

tsp

Salt

Fresh Coriander Leaves

Fresh Pomegranate Seeds

to serve
Instructions
In a small bowl, mix together the yoghurt and sugar. Add enough water (5-6 tablespoons) to give the yogurt a slightly runny consistency.

Slice the baby potatoes into chunks (roughly the same size as your chickpeas) and boil in the microwave or on the stovetop until soft and tender.

To a large bowl, add the rinsed chickpeas, chopped potatoes, diced red onion, green chillies, green chutney, tamarind chutney, chaat masala, cumin powder, salt and HALF of the yoghurt mixture.

Mix everything until it is well combined. Stir in a few chopped coriander leaves (optional). Taste the chana chaat and adjust the salt as required. You can also add some lemon juice for extra tang.

Divide the chana chaat into two bowls or transfer to one large serving platter. Drizzle on the remaining yoghurt, and top with more green and tamarind chutneys. Sprinkle on a little more chaat masala, and top with pomegranate seeds, chopped onion and thin sev (optional).

Enjoy immediately!
Notes
Best served immediately.
If you wish to prepare the chaat ahead of time, stop after step 4 and store in an airtight container in the fridge for up to 1 day, then add the toppings just before serving.
Nutrition
Serving:
1
serving
Calories:
292
kcal
Carbohydrates:
59.2
g
Protein:
10.6
g
Fat:
2.1
g
Saturated Fat:
0.5
g
Sodium:
1231
mg
Fiber:
9.2
g
Sugar:
16.7
g