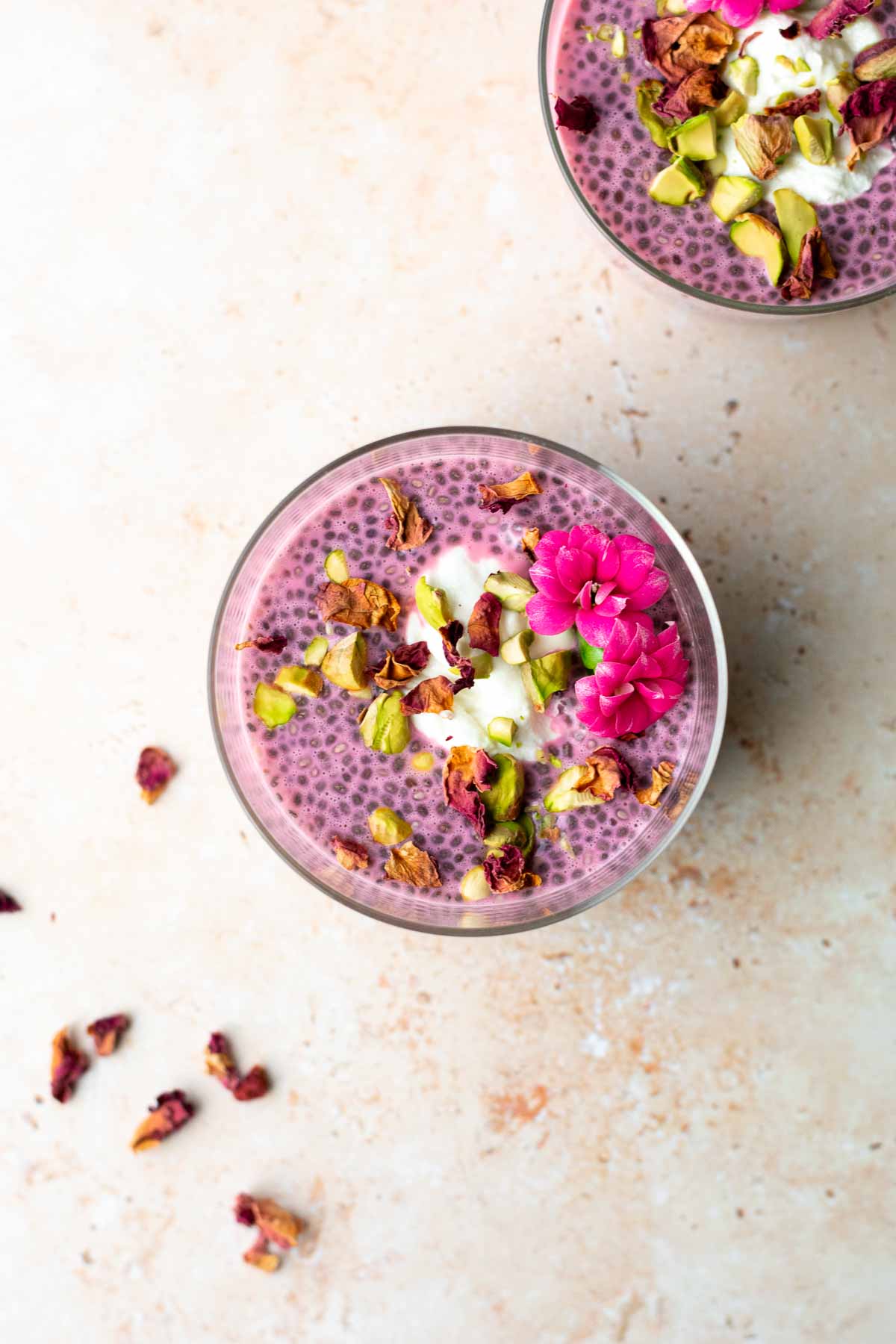 If you're looking for a healthy breakfast or snack option, look no further than this rose cardamom chia pudding. It's perfectly creamy, packed with flavour, and best of all, a gorgeous shade of pink!
I'm also sharing my tried and tested way to make chia pudding without making a mess! Because if you've ever made chia pudding before, you'll know things can get messy.
What is chia pudding?
Chia pudding is made from chia seeds soaked in milk, typically flavoured with honey and/or fruits. When mixed with liquid, chia seeds absorb the liquid and expand, creating a gel-like texture. This gives them a creamy, pudding-like texture whilst being light and packed with fiber and protein. It is a delicious and nutritious way to start the day, and can also be enjoyed as a snack or healthy dessert!
If you are new to chia pudding, you'll also love my coffee chia pudding recipe – it's a reader favourite!
What ingredients will I need?
To make rose cardamom chia pudding, you will need:
Chia seeds. You can find chia seeds in most grocery stores. You can use either black or white chia seeds, or a combination!
Milk. You can use any milk of your choosing, be it whole milk or non-dairy milk such as oat milk or almond milk. For an extra thick and decadent chia pudding, use canned coconut milk.
Rose syrup. This is a sticky sweet cordial made from rose petals and sugar, and adds a delicious floral flavour to the chia pudding. Rose syrup has a unique flavour and vibrant red colour, and is used to make popular Indian drinks such as rose milk and rose falooda. My favourite syrup is from the Rose Brand, but you can also use Rooh Afza. You can find Rose syrup in most South Asian grocery stores.
Ground cardamom powder (elaichi). This fragrant spice adds depth of flavour to our chia pudding. You can find ground cardamom in most grocery stores.
How to make rose cardamom chia pudding step-by-step
As always, you can find the full recipe and instructions at the bottom of this blog post.
This recipe couldn't be easier to make! And cue my trick for making chia pudding with zero mess: a jar.
All we have to do is combine all the ingredients in a jar, and shake it up!
First add the milk, rose syrup and ground cardamom and mix together. Then add the chia seeds (photo 1), place the lid on the jar, and shake it up. You'll want to shake the jar for 30-60 seconds until the chia seeds stop settling at the bottom of the jar (photo 2).
Now it's time for the hard part! You'll want to leave your chia pudding to rest in the fridge for at least 30 minutes until it is creamy and thick (photo 3). You can even leave it overnight – it will only get better with time.
The best toppings for chia pudding
One of the best things about chia pudding is that it is a vessel for some tasty toppings! Here are a few of my favourites:
Greek yogurt. This adds some extra protein as well as a tangy, creamy texture.
Nut butters. Our homemade pistachio almond butter would be delicious atop this chia pudding! If you are using store bought nut butter, always make sure it is 100% nuts.
Fruits. Bananas, raspberries, strawberries and blueberries are all tasty additions! You can also opt for fresh mango – and be sure to check out our mango lassi recipe if you're a mango lover!
Chopped nuts. I've served this chia pudding with some chopped pistachios to complement the rose flavour. If you're a fan of pistachios too, you'll love these white chocolate pistachio cookies!
To make this recipe even more special, you can garnish your rose chia pudding with rose petals, as I have done here. Or for an extra decadent treat, top your chia pudding with a scoop of ice cream!
Frequently asked questions
I don't like the texture of chia pudding. What can I do?
If you don't like the chia seed texture, you can try blending the chia pudding after it has rested and thickened. This will give it a thicker, mousse-like consistency. 
Is chia pudding actually good for you?
Chia pudding is a delicious and nutritious breakfast as it is packed with fiber and omega-3 fatty acids. Chia seeds are also a complete protein source containing all nine essential amino acids. When enjoyed as part of a balanced diet, chia seed pudding feel-good option with lots of health benefits.
I can't find rose syrup anywhere. What can I use instead?
If you cannot find rose syrup, you can make your own at home! It is surprisingly easy and requires only 3 ingredients: sugar, rose water and red food colouring. You can check out this handy post from Lins food to learn more!
Storage
Prepared chia pudding will last for 2-3 days in an airtight container in the fridge, making it great for meal prep. You can even make it in little jars to bring to school or work.
If you're looking for something else to make with chia seeds, you can also check out my chia jam recipe. It's a naturally sweetened, healthier version of jam which is ready in under half an hour!
I hope you enjoy this recipe! If you make it, please leave a rating + review below and share your photos on Instagram tagging #shivanilovesfood!
Rose Cardamom Chia Pudding
Leave a Review
Print Recipe
This flavourful rose and cardamom chia pudding is made with just 4 ingredients! A delicious and nutritious breakfast, dessert or snack.
Ingredients
6 fl oz/ 170 ml

Milk of choice

for a creamier texture use canned coconut milk

1.5

tbsp

Rose Syrup

I like Rose Brand

Pinch

Ground Cardamom

2 tablespoons/ 30g

Chia Seeds

Black or White
Instructions
Add the milk of choice, cardamom and rose syrup to a 500ml mason jar. Stir to combine. Taste this mixture and add some maple syrup if you desire a sweeter chia pudding.

Add the chia seeds to the jar and close the lid, then shake the jar to mix everything together. Make sure you shake the jar for 30-60 seconds until the seeds no longer settle at the bottom of the jar.

Refrigerate the chia pudding for at least 30 minutes until it has thickened.

Serve the chia pudding with toppings of choice. I like Greek yogurt, chopped pistachios and rose petals!
Notes
Prepared chia pudding will store in an airtight container or jar in the fridge for 2-3 days. It's great for meal prep!
Nutrition information provided is for 1 serving, prepared with semi-skimmed milk, without toppings.
Nutrition
Serving:
1
serving
Calories:
166
kcal
Carbohydrates:
23
g
Protein:
5.5
g
Fat:
5.7
g
Saturated Fat:
0.7
g
Sodium:
12
mg
Fiber:
5.2
g
Sugar:
4
g