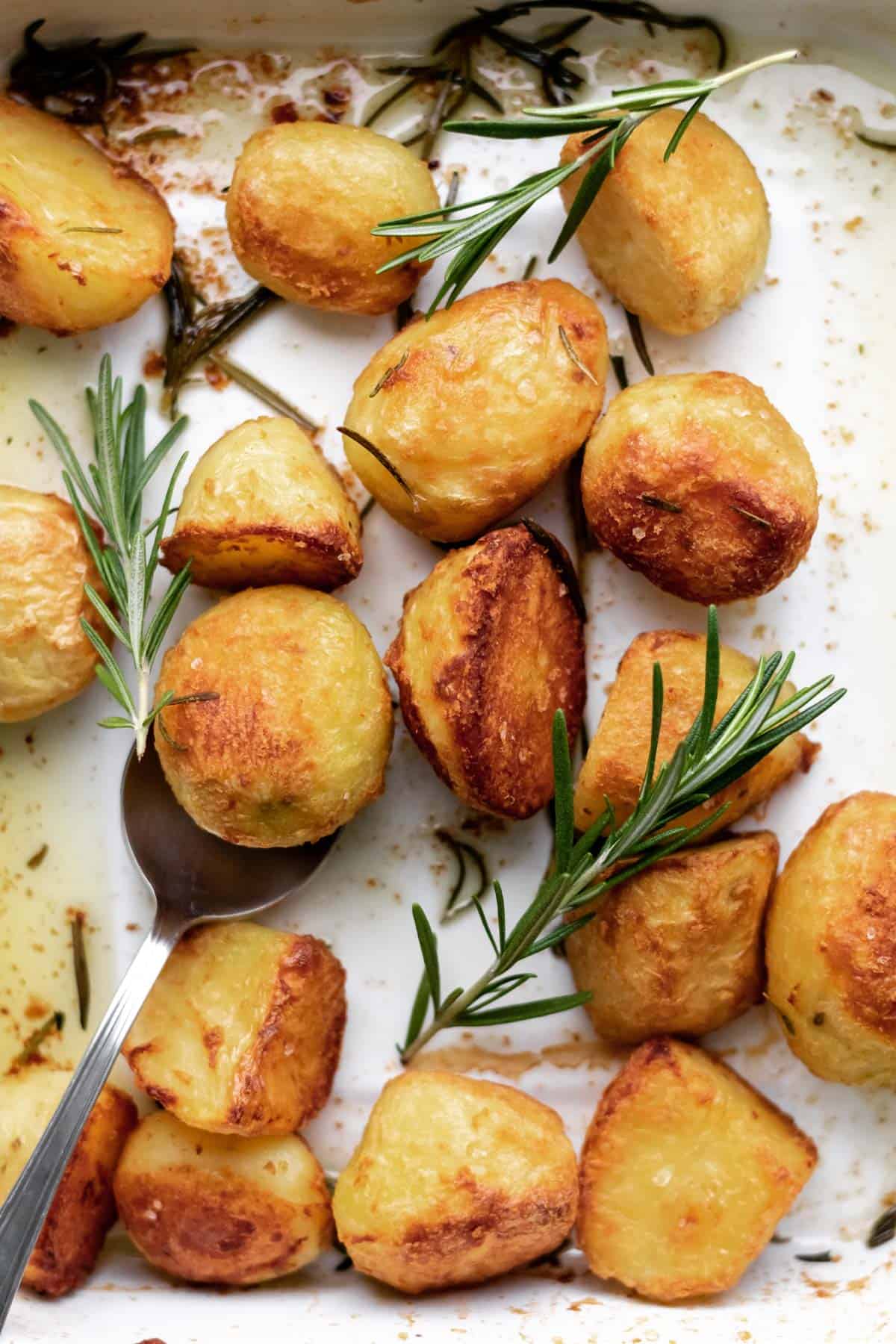 NOTHING beats the perfect roasted potato. And my fool-proof crispy roast potatoes are made with just 5 ingredients and come out perfect ever time. They have a soft and fluffy interior and a deliciously crispy golden exterior – what more could you want from a potato?
The secret to perfect crispy roast potatoes
Pre-heat the oil. Whilst you are prepping the potatoes, pre-heat the oil in the oven. When your potatoes enter the hot oil, they will start to crisp up faster.
Boil the potatoes in baking soda. I first came across this trick from a post on Serious Eats – baking soda creates an alkaline environment for the potatoes to boil in, which maximises the starch so our roast potatoes are extra crispy!
Swish the potatoes around your colander after boiling. This is SUPER important for ensuring your potatoes crisp up as it maximises the surface area and therefore the crispiness!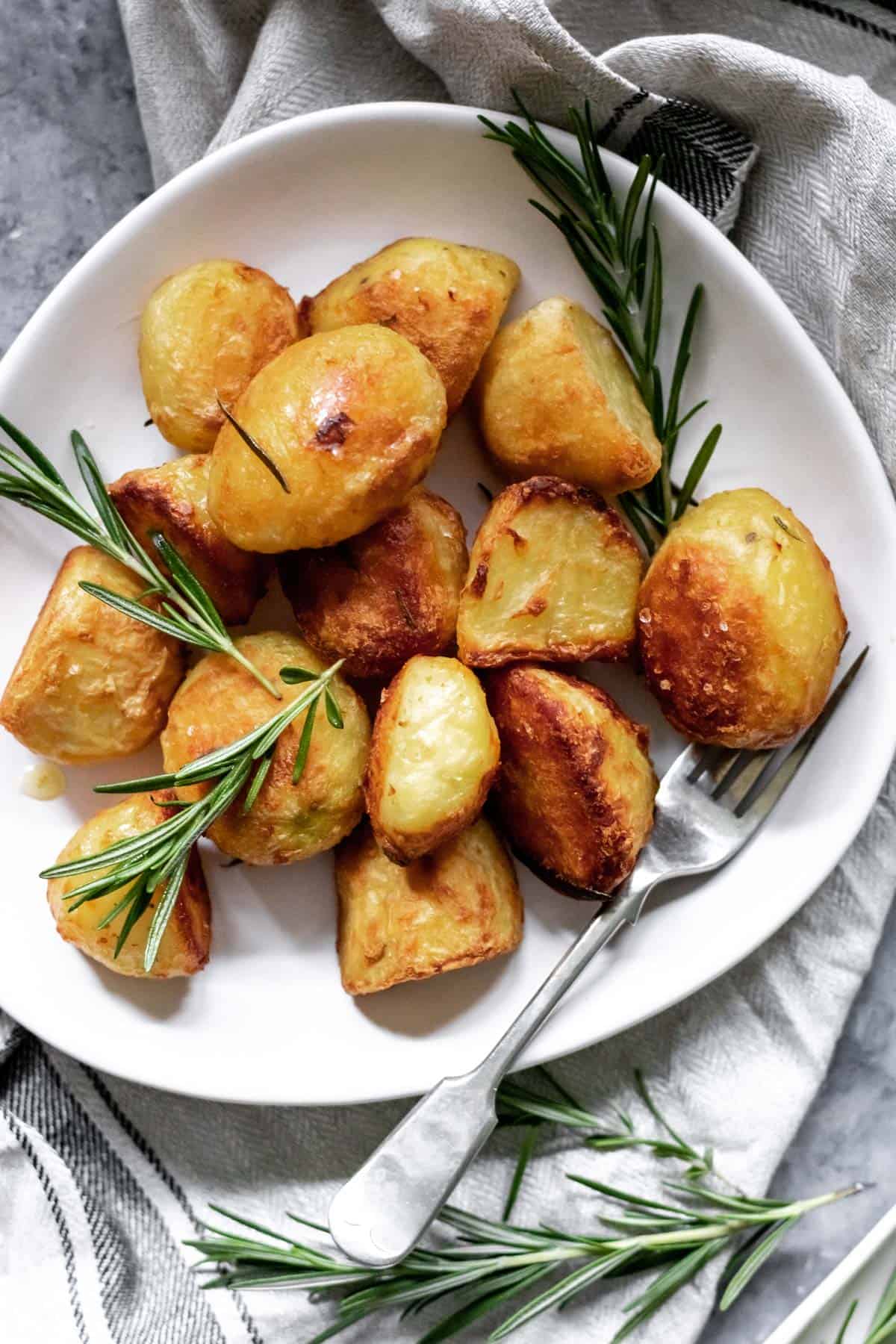 How to make perfect roasted potatoes
Firstly, pre-heat the oil by adding it to a roasting tray and placing it in the oven. Then wash, peel and slice your potatoes into golf ball-size chunks (photo 1).
Next, boil the potatoes with some bicarbonate of soda for about 5 minutes, then swish them around in a colander to make the exterior rough (photo 2). Then we'll add our potatoes to the hot oil along with rosemary and salt (photo 3), and roast until golden!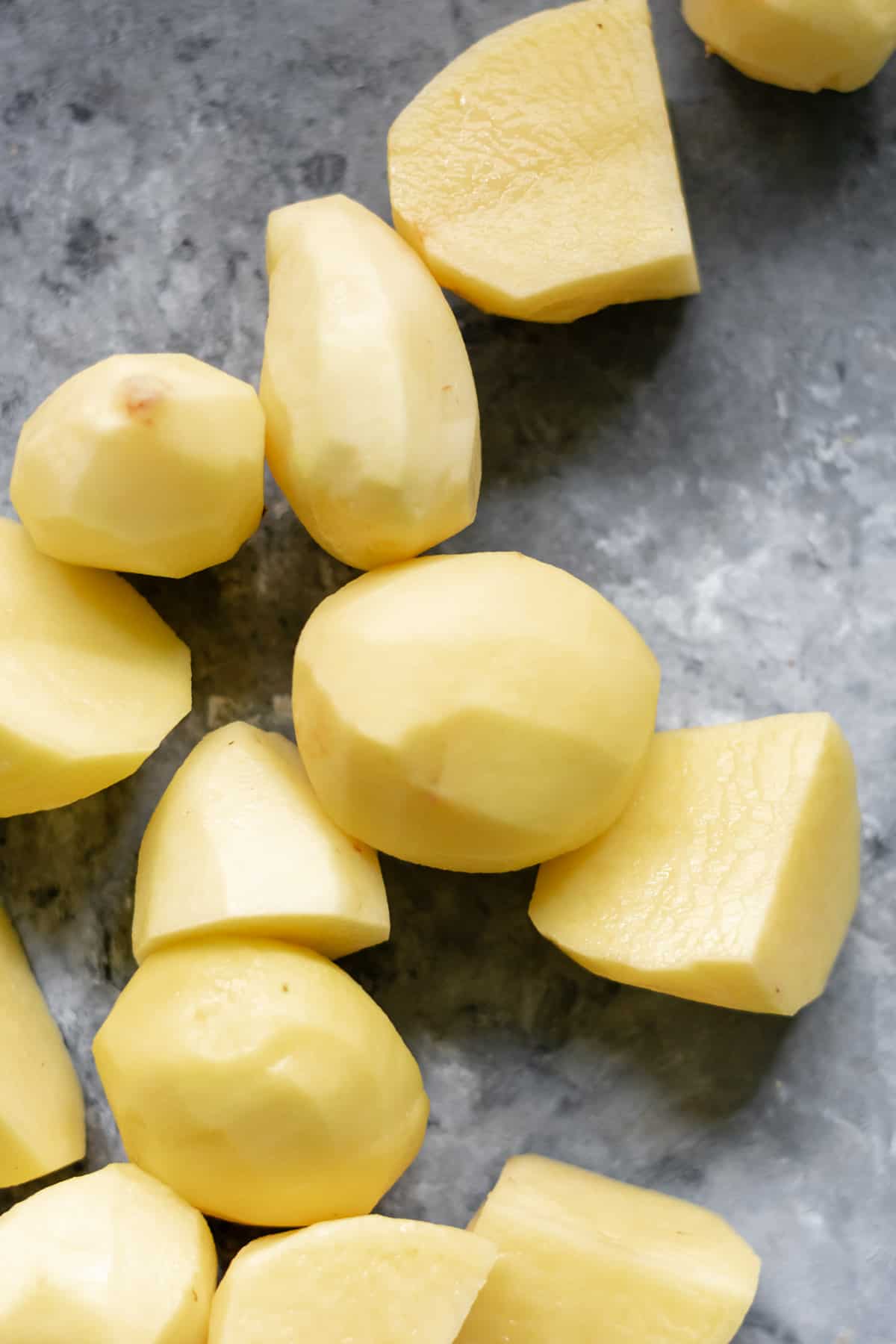 Variations on this recipe:
These roasted potatoes are amazing alone, but if you're looking to switch things up, try using a flavoured oil such as chilli oil or garlic oil to add some extra dimension to the crispy roast potatoes.
You could also add some finely chopped garlic to the potatoes with the rosemary, or even roast an entire bulb of garlic alongside the potatoes!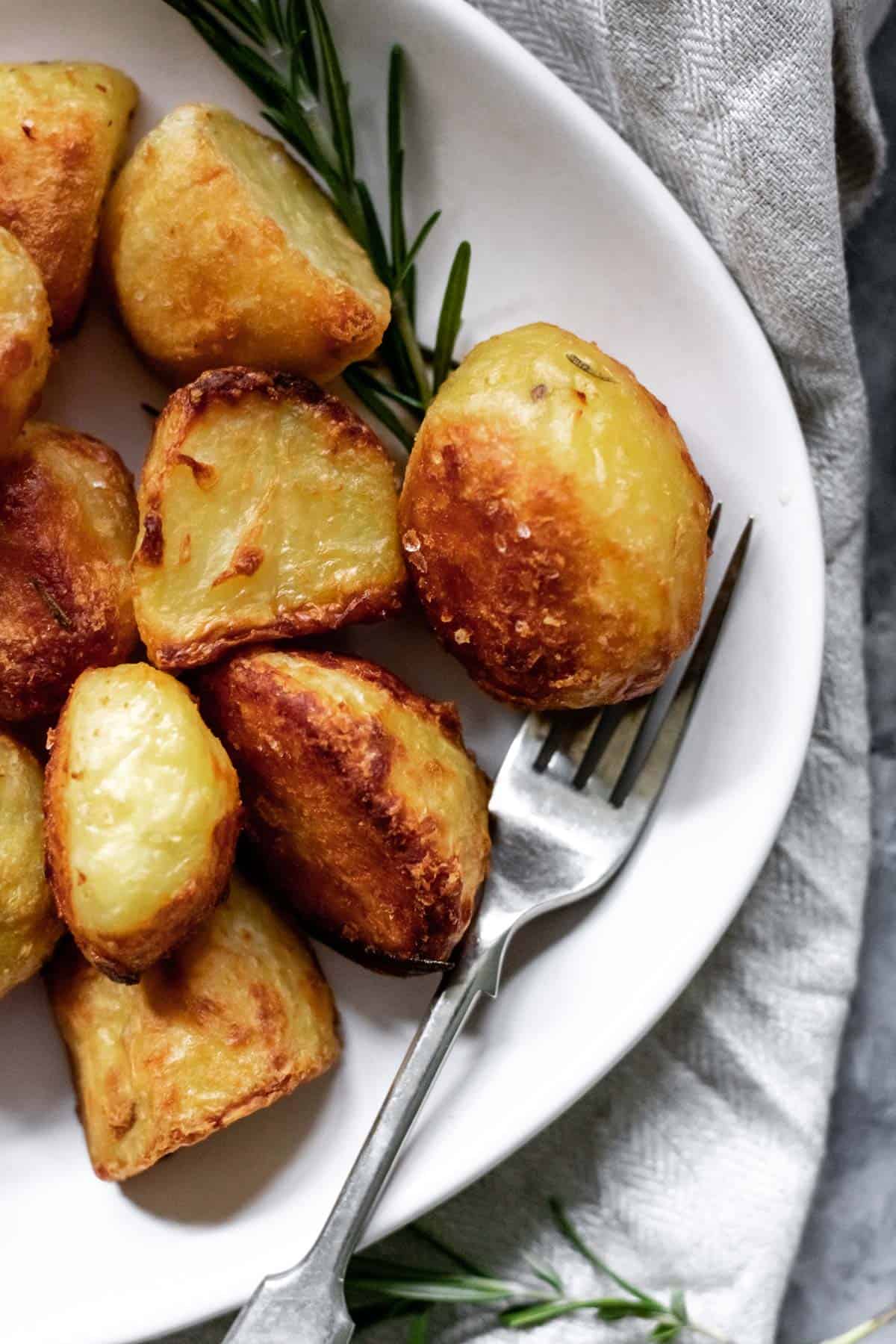 Frequently Asked Questions
Which potatoes are best for making roast potatoes?
There are two classes of potatoes: floury (which disintegrate when boiled) and waxy (which hold their shape). For roast potatoes, the optimal variety is a happy medium between these two classes! I like to use Desiree potatoes, but you can also opt for Yukon gold.
Can I make roast potatoes ahead of time?
Roast potatoes are best enjoyed hot out of the oven, however you can pre-boil the potatoes ahead of time and set them aside to roast later. Make sure to still pre-heat the oil about 20 minutes before you are ready to roast the potatoes to maximise their crispiness!
I hope you enjoy this recipe! If you make it, please leave a rating + review below and share your photos on Instagram tagging #shivanilovesfood!
And finally, if you like this recipe, I just know you'll also love my hassleback potatoes and vegan naan pizza. Carbs are the best!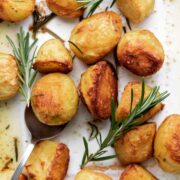 The Ultimate Crispy Roast Potatoes
Leave a Review
Print Recipe
A step-by-step recipe for the ultimate crispy roast potatoes! I'm sharing all my tips and tricks to get that perfect crispy exterior and fluffy interior!
Ingredients
28 oz/ 800 grams

Desiree Potatoes

1/4 cup/ 50 ml

Sunflower Oil

1

tsp

Bicarbonate of Soda

1-2

sprigs

Rosemary

Salt

to taste
Instructions
Add the sunflower oil to a medium-size roasting tray and place this in the oven at 200 °C/ 400 °F.

Wash and peel the potatoes. Slice any particularly large potatoes into halves – you are aiming for golf-ball sized pieces.

Add the potatoes to a large pot and cover with boiling water. Add the bicarbonate of soda and 1/2 tsp salt and stir. Bring to a boil over high heat, then cover and simmer the potatoes on low heat for 5 minutes.

Drain the potatoes into a colander and swish the potatoes around the colander until the edges are rough. Don't skip this step – it's what makes our potatoes extra crispy!

Remove the roasting tray from the oven and carefully add in the potatoes – they will splatter so I recommend adding the potatoes to the tray one at a time.

Add the rosemary sprigs and a generous pinch of sea salt. Toss the potatoes to coat them in the oil and seasonings.

Return the tray to the oven and cook the potatoes for at least 30 minutes, tossing the potatoes halfway through cooking. If you like your potatoes EXTRA crisp, cook them for an additional 5-10 minutes.

Serve immediately and enjoy!
Notes
Feel free to switch up this recipe by adding chopped garlic or additional herbs of your choice along with the rosemary, or switching the sunflower oil for chilli oil!
Nutrition
Serving:
1
serving
Calories:
259
kcal
Carbohydrates:
31.5
g
Protein:
3.4
g
Fat:
13.9
g
Saturated Fat:
1.4
g
Sodium:
908
mg
Fiber:
4.9
g
Sugar:
2.3
g